SOLO SOUTH POLE EXPEDITION
Rosie Stancer



January 14th : Stancer's arrival at SP
ROSIE STANCER REACHES SOUTH POLE : DOUBLE BRITISH VICTORY AS SHE BECOMES SECOND BRITISH WOMAN, OLDEST AND SECOND FASTEST PERSON EVER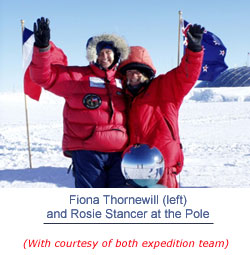 Antarctica, January 13, 2004 - Rosie Stancer, 43, confirmed to her base camp manager this evening that she has reached the Geographic South Pole. She arrived at the Amundsen-Scott Base at approximately 16:20hrs GMT this evening after sledge-hauling 606 nautical miles (697 miles) in a remarkable 44 days on the SNICKERS® South Pole Solo Challenge. Rosie reached the Pole just three days after fellow countrywoman Fiona Thornewill who arrived late on Saturday night GMT. Shortly after her arrival at the South Pole Rosie will meet and congratulate Fiona on her achievement.
This represents a double British victory for the two women and adds another chapter to Britain's long history of achievements in polar travel and exploration. Rosie becomes the second British woman and the third woman in the world to have reached the South Pole solo and unsupported. Her time of 44 days represents the second fastest ever, beating all previous solo, team, supported and unsupported male expeditions. At 43, she's the oldest woman; in 1994 the Norwegian explorer Liv Arnesen made international headlines when she became the first woman to ski solo and unsupported to the South Pole at the age of 40.
Commenting on the SNICKERS® South Pole Solo Challenge, Mark Reid, Masterfood's external relations said: "We congratulate Rosie and Fiona on their fantastic achievement and their safe arrival at the Pole. We look forward to welcoming them back to the UK."
Veteran polar explorer Sir Ranulph Fiennes sent a message of congratulations to Rosie: 'May I add to the many congratulations you should have already received my own sincere congratulations on your brilliant achievement.'
Rosie has been raising funds for her nominated charity, Special Olympics Great Britain. Special Olympics athletes have been eagerly following Rosie's progress via the website www.snickerssouthpole.com and have had their messages of support and encouragement passed on.

January 7th / Rosie's New Year
Rosie has had another great week and a wonderful New Year. Rosie successfully passed by an area marked on the chart as 'disturbed ice', which she approached cautiously and slowed down her pace, remembering her 2000 expedition when her team heard very ominous booming sounds which were later confirmed as being the ice layers moving against one another and sounding rather like thunder.
Read More...

December 23rd / 10 hours a day on the ice...
Another superb week for Rosie. Rosie is spending on average 10 hours a day on the ice, with 8 minute rests at the end of each hour to take onboard liquid and food.
Rosie is making fantastic progress and even covered 18 miles in one day - her best mileage so far.
Display the communiqué

December 18 / Rosie indulges in a pedicure, manicure and facepack...
Rosie has had an excellent second week. She feels that she has got into a really good routine and rhythm and is starting to tweak and fine-tune everything to achieve maximum mileage and return for effort. However, Rosie is extremely mindful that she must not be lulled into carelessness. There seems to be a different challenge thrown at her every day and in varying weather conditions (sunny, whiteouts, windy) but her spirit and determination are high, aided by all the kind messages of support she has received. Healthwise, Rosie has had a few stomach cramps and bad sleep patterns but thinks it was due to eating large quantities of butter before going to bed. She is now eating earlier and this seems to have sorted out the problem! Also, to keep up morale, Rosie indulges in a pedicure, manicure and Vaseline face-pack once a week. She jokes that she is pleased she is traveling solo so no-one can see her.
Rosie has made good distance. Her equipment is 100% and she is delighted with her performance on the ice.

Waiting for the positions to be put on our map, here are the first press communiqués published by Stancer's website : she arrived together with the other expeditions at Patriot Hills on Sunday November 30th and is now already on the ice after having spent one day in the tent because of heavy winds /
Display the Communiqués

Since December 13th, the positions and the communiqués (published on her website) are displayed on our map
FOLLOW SOLO SOUTH POLE EXPEDITION ON OUR MAP

____________________________
THE OTHER FOLLOW UP OF THE SEASON