M&G INVESTMENTS NORTH POLE EXPEDITION 2002
Ann Daniels, Pom Oliver, Caroline Hamilton


See also our comparative map of the Arctic expeditions of spring 2002

Saturday 1 June (Day 81)
90° NORTH - ON TOP OF THE WORLD !

From their website : At 5:50 GMT (June 2nd), Ann and Caroline reached the North Pole setting the following World records:
(1) Caroline and Ann are the first female British explorers to have trekked to the geographic North Pole as part of an 'all female' expedition.
(2) As members of the 2000 M&G ISA Challenge Expedition to the geographic South Pole, Caroline and Ann are the first female explorers in history to have trekked to both geographic Poles as part of 'all female' expeditions.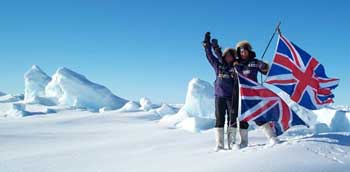 Caroline and Ann have done this without the help of either professional guides or men; they themselves are professional explorers and have proved that women are the equal of men in what was once considered to be a very male dominated environment. The girls are intensely proud of what they have achieved and just want to show all females out there that two ordinary women really can achieve the extra-ordinary.
Wow. What an amazing feeling of elation, excitement and relief.
We found the Pole using our GPS and guess what, it was in the middle of an open lead. Fortunately no need for swimming, though – we found our way onto a small island of ice and suddenly we were on the very top of the world. Pom was there in spirit. We hugged each other, planted the Union Jack and sang the National Anthem. Not a single note in tune, not a single note coinciding.
It was absolutely fantastic – unbelievable to be there at last. We put the tent up, took photos and celebrated with a tiny bottle of whisky and mugs of potato and beef stew. Then we were up and off again to find a flat piece of ice for the Twin Otter to land on. Fortunately, we found something half a mile from the Pole and before long we were on our way home. First stop was Eureka, a small weather station at 80º North where we looked in the mirror and had our first shower for 81 days. Also, lavatory paper, knives and forks and communicating with other people – all of which were alien. Then back to Resolute last night for a wonderful welcome and more celebration with DianeGuy (unfortunately Gary is out of town). The Party at the Palace on television brought it home what a momentus weekend this has been.



Thursday 23 May
The remaining two women, Ann Daniels and Caroline Hamilton, are continuing to make difficult progress on the ice-floe, despite the difficulties encountered by all the Arctic expeditions this spring. On 9 May, the 2nd supply flight to the team went off without a hitch, while Pom Oliver (whose toes are recovering) hitched a ride on the Twin Otter to spend a short time with her companions in the adventure. Ann and Caroline, who are expecting to find a lot of leads of open water on the rest of the journey - took advantage of this opportunity to bring in waterproof suits (designed by Borge Ousland). You can't be too careful.
On 16 May, Ann fell through the ice, without coming to any harm. "Water, water, everywhere …" the girls wrote in their web diary. Today saw masses of open leads, they came across 25 in the first hour. In the second hour, Ann was leading across some 'porridge'-like ice that was not dissimilar to countless previous times, when she suddenly went through and took a dip in the Arctic Ocean. Quickly, Caroline hauled her out by her harness. They decided to carry on, and would only stop if Ann got too cold. It was a beautiful day which started out as -15°C and got progressively warmer. In between the leads the surface conditions were good and they made another 10 miles towards their goal.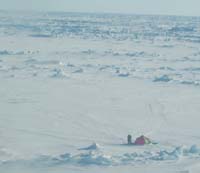 Three days later, while the team was waiting for its third supply flight, it was Caroline's turn to take an unexpected dip in the Arctic Ocean. Fortunately, she had just put on her waterproof suit. This is how they described rather comic event: "On reaching the far bank she shouted at Caroline to put on her orange dry suit, which is easier said than done. The legs are long and the huge boot covering and large mittens mean putting on skis is a feat in itself but amidst much hilarity Caroline successfully put on her skis and started to cross the lead, albeit in a different part than Ann. After only a short way the ice gave way and with a shriek Caroline plunged through the ice. The suit was magnificent, up she popped before her face was even splashed and due to the blobby ice she turned for the nearest 'bank' and scrambled back onto the safe ice. Now Ann was North of the bank and Caroline South. Ann, being Ann, volunteered to come back!! Eventually Caroline plucked up courage and got back into the water. Caroline would launch herself onto the thin ice, but still it was not possible to ski across or swim across easily. So the 'ice breaker' Caroline would break the ice with her belly flops, then make progress in the water, then belly flop. The suit kept Caroline warm and buoyant, so buoyant that instead of words of encouragement from Ann all she could hear were hysterical hoots of delighted laughter until eventually Ann threw her a throw line to help haul her to the other side of the lead."
On 20 May (69th day of the expedition), Ann and Caroline were still 194 km from the North Pole. They were making progress at a rough average of 18 km per day, and had covered 568 km since setting off.



Saturday 4 May
Since 28 April, the British team has consisted of just two women. Indeed, Pom Oliver caught serious frostbite in her feet while the team was forced to remain in their tent for two whole days, 26 and 27 April, because of an enormous storm which made the temperature drop to -52°C! Will this incident jeopardise the continuation of the expedition?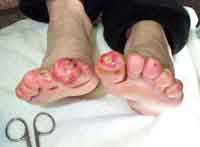 It was at the time of the resupply operation (on April 28) and on the advice of the team member who accompanied the Twin Otter that Pom Oliver decided to leave the ice and thus to let her two partners continue their trek on their own.
Their position on 02 May: 84° 35' N / 70° 53' W. The British team has covered 272.6km up to now; they still have 490.7km to go to get to the Pole. So they will have to make a daily average of 17km if they want to achieve the expedition's goal before the end of May.



Friday 12 April

A week ago, Mike Horn developed frost-bite on both his thumbs and his right index-finger just by removing his gloves for a few seconds to tie his shoelaces at -40°C! On the advice of his doctor received by Internet, he treated himself by soaking his hands for an hour a day in hot water, but Horn is going to be picked up, and will suspend his expedition temporarily, in order to have treatment: the pain was just unbearable.
Mike Horn abandoned on 9 April. He has already announced that once his injuries have healed, he'll be back.
He had reached position 84°38' N / 88° 33' E.

Monday 1 April
Sunday 31 March was their 19th day of progress on the ice floe. The awful conditions that Alain Hubert and Dixie Dansercoer have been contending with for a month now seem to be very similar to those experienced by Ann, Pom and Caroline on this side of the Arctic Ocean. The terrain has become rather better in the last few days according to their web site.
First of all, it is extremely cold (as low as -45°C last Saturday, 23 March), and the trio endured an extremely violent storm on 22 March - which forced them to stay in the tent on that day. The ridges and hummocks are very difficult to negotiate (but these are a constant feature at these latitudes). And finally, it is snowing heavily around Ward Hunt, making progress difficult.
In other words, the three British women are going no faster than our two Belgian men; their last report, dating from 27 March, announced total progress of 19.5 nautical miles (36.11 km) in 19 days. This gives an average - deducting the "storm-enforced rest day" of 2 km per day. But their spirits are high and the equipment is OK.
A commentary on their site on the comparative condition of the Arctic ice floe from one year to another: "There are often frequent debates in the polar community about the conditions on the Arctic pack ice and how they vary from year to year. Now the team have been out for over 2 weeks, Ann thinks that compared to her experience in 1997, the ice conditions seem slightly easier, but it is much, much colder. Despite the fact that it is sunny, the current temperature is -52° C, and she can't remember the temperatures being lower than -35° C five years ago. Everything takes so much longer to do in these temperatures, and this can slow progress as much as poor ice."

Tuesday 19 March
The three British women adventurers Ann Daniels, Pom Oliver and Caroline Hamilton left Ward Hunt on 13 March, having been dropped onto the ice by a Twin Otter the previous day. The latest news from their site dates from 15 March; at that time they were at 83° 11' 22" N, 74° 23' 25" W.
Until then, they had progressed by 4.5 nautical miles, or 8.3 km and the remaining distance was 409.5 nautical miles, or 756.5 km. Morale was good, although the terrain was chaotic, of course.