The Arctic Polar Expedition / Season Spring 2005
| | |
| --- | --- |
| Bancroft Arnesen Explore - Arctic Ocean (Ann Bancroft & Liv Arenesen) | |
Open their expedition map
Display here our map covering all the spring 2005 expeditions
Wednesday April 13th
Here is waht Ann et Liv have written on their website - their last message of this expedition...

Hi All -
Thought it was time to check in with you all again now that we have completed another step of our adventures. Liv and I are finally home from our journies across Russian, to the Arctic ice and back through Russia. Liv and I arrived in Oslo to fists full of tulips, family, friends and the media. Our press contact Britt, arranged a press conference on the spot. Lots of curiousity to understand the issues of the last month. I left Liv on a sunny spring Wednesday afternoon in Oslo last week, to head home to my family and the spring I thought sure I would miss this year.
Because we were not planning on returning through Russia , we had only the clothes from the ice. Spring was hitting Krosnyorsk as well and we recieved many, many looks as we walked along the Yennacy River and to the market to get apples and cheese. Wool long johns, gortex pants, and our ski boots clunking along the streets. No matter how far North we went, the Russian people - particularly the women, are quite formal in their dress. So I think the staring was more intense because not only was what we were wearing different, it really was not what women would be wearing in these types of places.
We arrived in Moscow Tuesday morning after a very long flight. In fact, you realise just how ennormous Russia is when you travel as we have. Most of the flights we took from place to place stretched to around the six hour time frame! Once in Moscow all three expeditions waited for our Cerpolex contacts to meet us with a truck to haul sleds and barrels of gear returning home to yet another airport to catch flights to our perspective homes. Now quite sessoned to the hurry hurry wait wait mode of travel here, all six of us were quite calm and gathered together to sit with gear in hot dirty clothing in a corner out of the way of the bustle of things. Familiar faces showed up - the same guys who helped when we arrived about a month ago. With sleds packed into the old old truck we hugged Ann Daniels goodbye. She would catch her plan back to England at the same airport. We had more adventure in store ahead of us!
Jammed into a small car Liv, Doug, Peter and I lead the way for the old truck to make the long trip to the other airport far on the other end of Moscow . Marc would ride in the old truck with the gear. Our goal was to catch 4:00 flights to Holland and Norway . Experience told us to be a bit worried that all this. Arrived in Moscow at 9:00 a.m. , one might think this would be amply time to catch a flight - even with some cargo - but we knew better.
The traffic was amazing! Cars everywhere and the old truck having a difficult time staying with us. Our driver would pull over on the freeway or slow down. I wondered if someone might hit us from behind with our slow speed, but realized that cars were breaking down in middle lanes and the flow just moves around them. Cars and trucks of all kinds and in all kinds of conditions were everywhere. Our driver was speaking on two cell phones trying to get the truck to keep pace. He was speaking very loudly in Russian to both us and whomever was on the other end of the phone – hands justiculating as he drove. As the hours moved along, the tension and physical heat in the little car started to rise. Now we really started to see that we might indeed not make our flights. After so many days in warmer climates in wool and gortex - and with the realization the ice was far away; we all wanted to get home. The prospect of spending the night in Moscow and MAYBE getting out the following day was too much.
Our driver sensing this, or seeing our expressions in the rear view mirror asked in mostly Russian if we wanted to leave baggage to be sent later and try and make the flight. Liv went for that option immediately! She called Christian from Cerpolex in Paris to see if it would be possible. then she called the Norwegian Embassador. All said they could easily help. We had one small problem. Marc was in the truck somewhere in traffic behind us. Because we couldn't understand much of our drivers loud conversations on the phone as he drove we were a bit surprized when the truck was suddenly next to us on the freeway. When the traffic slowed, our driver yelled to Marc that the baggage would come later and we were going to try for the flights without it and he was to switch vehicles. Somehow he understood in the yelling and heat and traffic and was jammed in next to us in the back seat. I was now on Liv's lap and leaning in the front seat with Peter. Our speed increased and we soon found oursleves pulling up to the airport.
Liv ran in to buy our tickets and I waited for the truck. We are still not sure how it all happened, but after all the switching cars in mid traffic and yelling on the phones, the truck showed up very soon after we did. Peter and I and our driver pulled all the gear from the truck as fast as we could – 5 big sleds, barrels and duffle bags. Without even a chance to say goodbye to the Dutch team, we were headed to SAS dragging sleds and gear. When we got to the counter, with all this "stuff" the pace totally changed. What were these things? Our driver fortunately was with us or we might still be in Moscow . With much waving of hands and conversation our barrels were going through the ex-ray machine with the sleds to follow. As the clock ticked away and most passangers at the gate, we found we needed to go yet to another place and pay for oversized baggage. Liv went and came back. Credit card maxed out. I ran in my clunky boots next to the stealy faced women behind the glass. Fingers crossed that my card would work, we held our breath and then she was having me sign. Ran back to the ticket counter to head to the gate. Then our driver was saying something quietly to us. Need 500 rubels for the guy who handles the baggage. I dig through all my pockets and come up with coins and some paper money in my fist. Small bills. As the baggage guy watched, I hurriedly explained that this is all we really had. maybe 200 rubels at most. I poured it into his hands and the guy took it. After looking at us, our clothes and expression through all this, I think he really believed us.
We ran and then hit security. Boots off, bags and jackets on the belt. At the gate, a stern woman stopped us. Wrong gate. Turned around and ran back through the security the wrong way and to another machine. At this point we are carrying our boots and running with arms full in our stocking feet. Much to our relief, the plane was waiting. Liv's contact at SAS had put us in business class to Stockholm . We plunked down in our seats with a friendly greeting from the flight attendant who wanted to know where we hiked in Russia.
After catching our breath and the plane in the air, I commented to Liv that it seemed somehow appropriate that the very last thing we did in Russian was pay a bribe. What a punctuation on a strange journey.
Now, both of us at home spent the weekend pondering all that we need to do in the weeks ahead and how we are feeling about all that unfolded. As we have said in our earlier reports, there is so much to do in the months ahead with our curriculums. How fitting the PLU conflict resolution curric is with all that has happened!
We of course have to begin the process of thanking and corresponding with so many people who have helped in so many ways for us to take on this challenge and challenges. So there is much to do in the present and in the future. It has not been easy to come home with goals and dreams unrealized in such a way. But the letters and notes on the website, the greetings from family and friends and the possitive media reports have all helped emmensly. We can't thank you all enough.This journey is far from over and we hope you will continue to follow in the weeks ahead for new kinds of adventures. We couldn't have done all this without you all. Thank you.
More to come! Adios, Ann and Liv
Monday April 4th
Due to serious problems occured between Cerpolex and russian authorities last week, french TO decided to force the expeditions to be evacuated - they could not assume their security, they say. Here is what Ann and Liv have written or their website after this forced evacuation :
March 31st, 2005 Ann and Liv experienced a very, very difficult day, today. The setback they encountered today was not due to anything typical of the Arctic environment – not another lead or pressure ridge. Ann and Liv were caught in the middle of something completely unforeseen. A nasty business dispute between the competitive organizations which transport scientists, tourists and expedition teams to the Arctic region from Russia . The conflict, which delayed Ann and Liv earlier in the month, continued to mount and ultimately compromised the expedition's safety plan. A full evacuation became the only safe option for all three expeditions traveling from Russia to the North Pole; Pole Track, Ann Daniels and Bancroft Arnesen Explore. Teams were notified today that this decision was made and helicopters were already on their way to pick them up. You can imagine Ann and Liv's surprise at this news. This was such a sudden turn of events since they were eagerly anticipating their re-supply, which was finally to arrive today.
"It's an absolute sucker punch," say's Ann Bancroft. "We're not sure how to respond but we'll roll with it and handle it like we do everything else on the ice. We'll try to keep our chin up and keep moving forward." Ann and Liv are both very sad about this decision but are also dedicated to the teachers, their supporters and the millions of kids following along, "Our two education programs are tee'd up to talk about these sort of [lessons in life]," Ann said, "This journey is not over. Our education initiatives have so much momentum and we'll committed to sharing even more stories from the Arctic when we return."
Tuesday March 29th
Ann and Liv have decided to take on fresh supplies one more time and so will be calling their supply team out on to the ice next week. They have noted that the ice is becoming less chaotic the further they progress; this enabled them to cover 18.9 km last Saturday and 21 km the following day, Sunday 27th March. Both women are in good shape and their morale is very high. They are nearing 83º N, which they hope to pass through on Sunday.
Their position reported on Sunday 27th March: 82° 804 N 93° 620 E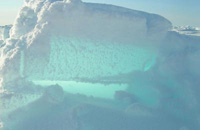 © Courtesy : Bancroft/Arnesen
Vendredi 25 mars
Monday 21st March, Ann and Liv passed the 82º mark (see our map) and covered 14.8 km on Saturday 19th and 24 km on Sunday 20th. The polar bear that had been following them appears to have lost interest in the two women. The ice has changed: it has become less yellow and a little less difficult to negotiate. The temperature has been constant over the past few days: minus 30, minus 32°C. There are still just as many channels of open water and most of the time Ann and Liv cross them on skis (they are usually not very wide), without spending time putting on their waterproof suits.
Their position on Wednesday 23rd: 82°315 N / 93°134 E.
Sunday March 20th
Normal progress since departure day on 14th March; compression zones, a few hours of white-out, serious drifting in the wrong direction, eternal channels of open water or ice too thin to negotiate and a little dip in the ocean (last Friday, 18th March) for Liv Arnesen - without her waterproof suit! - all combine to deliver a bottom line that is neither positive or negative. No doubt about it, the toughest thing about this beginning to the expedition is the presence of a menacing bear, which has not really left them alone for 48 hours! He appears in the afternoon, disappears in the evening and then shows his nose again the following morning, which has meant the two women have had to progress for two long days while looking over their shoulders every 30 seconds to see where this big critter is!
Sunday March 13th
Messages came in from Ann and Liv and Cerpolex confirming that Ann and Liv reached Cape Arkticheskiy, 81.20 N, today at 12:00 pm. After eating a little lunch, they set out onto the ocean to begin their 1,240 mile treck. Liv's voicemail reports that they are safely in their tent and ready for their first night in the cold.
March 11th / 12:24 am / US Central Time
A message from Ann and Liv confirms that all teams arrived safely but not without a brief scare. Arriving at Cape Cheliouskin pilots were denied access to refuel. Mi8 helicopters operating in this cold region need to refuel promptly due to potential issues with fuel and condensation. After an hour or so discussion with local military, the choppers were refueled and headed straight for the weather station Golomnyani, bypassing Sredny military base. The three expedition teams (Pole Track, Ann Daniels (solo) and BAE) were met with a very warm reception at the weather station. Teams flew over Taimyr Tundra, then the south-end portion of Kara Sea, prior to reaching Severnaya Zemlya.
Thursday March 10th
Ann and Liv remain delayed in Khatanga with no update on when they'll depart for the Arctic Ocean . They remain hopeful that they'll leave this week and pass days by taking walks in town and taking advantage of the extra time to fiddle with their tech equipment. Read Ann's update below.
"We love the messages we have gotten from the web. Really fun to hear about young dogsledders, Nancy at the Childrens Museum , the young kids wondering about Santa and all.Thanks to all for the efforts made to try and loosen up things on our end of the world…"
Hi all,
A lull in the action. I am trying to get ahold of Satcom to continue to fiddle with the iPaqand Satellite phones – see if they'll talk to one another and no real luck – called Satcom but keep getting cut off. We'll keep trying. Another day in beautiful Khatanga . Liv and I finally went over to offices (this is loose term) and the drifts by the door required shoveling. I could see in the frosty window that the guys needed time to wake up, so sat on the stoop awhile. We came in for coffee and grabbed a slice of bread and Ann's left over butter. A treat! No news and no sense that there would be for awhile. Went home and grabbed our clothes off of ourselves and the three girls did laundry.We wore our exp clothes while that was going on and then went for a windy warm walk. Only about -12 here and the wind even feels warm against your face. Not a light one though. Snow drifts all over the roads that don't seem to bother anyone. Dogs playing with one another or noseing about in the wind. Two who we now recognized came with us for awhile and played like pups in the wind. grabbing cardboard and tugging with me and each other.
Kids playing on the ice mounds built up from the old plowed snow or kicking a frozen soccer ball around. since its a holiday - Women's Day, people were walking about doing errands. In and out of little shops that seem to be everywhere. You can't necessarily tell they are shops as signage is not big here.If you see people go in a little door with maybe a bag, then the bet is a good one. They seem to be pretty much the same. Groceries, toiletries in a small room. We go in and buy a little hard loaf of bread, a chunk of cheese and something to drink. We love the messages we have gotten from the web. Really fun to hear about young dogsledders, Nancy at the Childrens Museum , the young kids wondering about Santa and all.Thanks to all for the efforts made to try and loosen up things on our end of the world. SO thanks all. Keep it coming. Hopefully this will be our week.
Adios all ! Ann Bancroft