ARKTOS EXPEDITION / MIKE HORN


After his abandon on Arctic Icepack last spring (2002), South-African Mike Horn goes on with his
longterm adventure around Arctic Polar Circle
Here are the press communiqués published during the spring 2002
26th of November 2003 - Mike is leaving again – the Arktos Expedition continues!
On the afternoon of the 25th of November, Alaskan time, Mike finally received that long awaited phone call saying that his Rasporyazhenie permit for the Chukotka region is now ready and he can once again return to Provideniya and continue his trek around the Arctic Circle.
Provideniya is a small Russian port situated on the Bering Sea, in the Administrative area known as the Chukotka Autonomous Okrug. This far northeast region of the Russian Federation is still classified as a 'restricted area' (otherwise meaning 'restricting free movement').
Because of the death of a Japanese researcher one week prior to Mike's arrival in Chukotka, the laws within this region where being changed. The FSB (Federal Security Service) now specified that any foreigner travelling within this region must be accompanied with an escort, or a local person, that will take on the responsibility of the expedition. Mike was immediately placed under surveillance, was told to find and escort and later was sent back to Alaska to wait for the appropriate permit to be issued. After leaving the North Cape over a year ago, it was difficult for Mike to be suddenly stopped in his tracks due to bureaucratic problems. He had already travelled over half of the 20'000kms around the Arctic Circle on skis, sailboat and kayak. He had lived in the extreme temperatures of the Arctic with months on end of complete darkness and solitude. He had met polar bears and grizzly's, had the most amazing encounters with the local people, and had seen the most breathtaking sights ever to be seen. He didn't want to stop now.
"I can't believe that after three months of waiting I can finally get moving again. The permit was given by the FSB and this was only made possible only with the kind help of the local Provideniyian people. Winter is now here. Light hours are diminishing rapidly each day and the stormy season, with strong wings and snowstorms, has now hit the Arctic. There have been heavy snowfalls during the last week so I can leave with my skis and sledge. From Provideniya, I will head northwest towards Egvikinot, and from there I will head due north, crossing the Chukotka mountainous range, until I join up once again, with the Arctic Ocean."
"I am feeing good and am excited about the next leg of the expedition. Russia, it's inhabitants, and its countryside will be a new experience for me and I'm sure will prove to make the waiting all worth while."
Communiqué - 27th October 2003 - some positive news about visas and permits for Russia.
'It's not the waiting that bugs me, it's the not knowing. Today they finally gave me a deadline: 20th November. I was delighted to hear that (even if it is still nearly a month away), because now I can get ready with the aim of returning to Russia on that date (finally) to continue with my expedition.'


'Today I met the escort who has volunteered to accompany me during the crossing of Chukotka. (the Chukotka police will not let me do the crossing alone). We were able to discuss details and prepare the route we are going to take. Another meeting is scheduled for tomorrow, before he returns to Russia. I will then continue on foot and skis, and he will follow me on a quad bike (motorcycle with 4 wheels). After three months of waiting around, he will need all 5 gears to keep up with me!!'
'I now have all of my winter equipment with me. There are still a few details to check, then I will be ready to leave. I am trying to put on weight while I am at Nome and I have started dragging my tyres again for 3 hours a day to keep fit.'
'I have met some great people here, e specially Jerry Alan, and Jeff and Peggy Darling. Their companionship and friendship have helped me to pass the days. Thanks, guys!' I will send you another e-mail soon / Say hi to everyone, Mike
Communiqué - 8 th October 2003
'It is often said that "no news is good news", but this time it is definitely not the case. I am still here waiting for the permits I need before setting out again on my planned route. I was told that I would have to request permission from every region that I will be crossing in Russia before receiving my special expedition visa. This appears to be extremely complicated and the worse thing is, it is a very long and seemingly arbitrary journey, too. It could even be another two months before I can continue!!''We are still trying to find a solution that will enable me to set out as soon as possible - we are not giving up all hope.'
'During this time, I am changing my equipment and preparing for the winter. I will be taking the sledge and the skis, as well as all my Eider clothes that will be essential for the extreme winter conditions to come.' 'Wish me luck !' Mike
Communiqué - 24th September 2003 - Mike returns to Nome, Alaska to wait for
the paper work to be done.
"It seemed like the best option while waiting for all the paperwork to be done. We are completely back to square one. The consular section in Moscow are arranging for a new, special (?!) visa for me. A company in Anadyr are applying for the permit to cross Chukotka and at the same time, we are trying to arrange a permit for a satellite phone and a GPS. The good news is that I have found somebody that will be my escort, thanks to my friend Vladimir, who I met in Provideniya."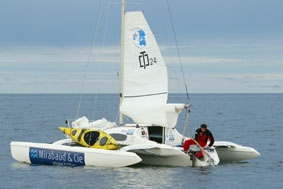 "In the meantime I'm biding my time in a small mountain cabin inland from Nome. Each day that goes by seems like a eternity. It's very frustrating. The Minister of Sport and International Affairs from Moscow has kindly offered his help and is trying to rush the paperwork. I just hope he'll be able to do something soon."
"Not a great deal to do while I'm waiting here. I go out and try and spot grizzlies. Today I will go fishing.......and in the meantime.... the weather is changing. The temperatures have dropped and the first snow has fallen."
"Would far rather be crossing over Russian territory but unfortunately there is nothing else that can be done. Now I must wait! As soon as there is some news I'll let you know." / Kind regards to you all! / Mike
Communiqué - 14th September 2003 - A stressful week!
The last week hasn't at all been easy - phone calls going backwards and forwards from the Richemont Group in England, Groupama Assistance in France and home base in Switzerland, trying to resolve the problems of visa and permits for Mike. It appears they'll take longer than expected. Unfortunately there is not a great deal that can be done at this stage. The laws have just recently changed in Chukotka due to a Japanese person dying somewhere in the mountains within the region. Since this event it now happens that all people wanting to travel through the region of Chukotka will need an escort. Once the escort has been found we can then proceed with the permit procedures, not to forget the permit for the satellite phone and also the GPS.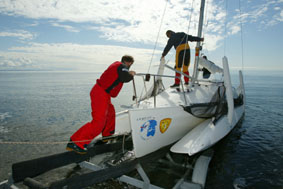 We appreciated the advice from the Russian Ambassador..... "Even Russian citizens are required to have permits and to get one is not a straight forward thing...
Be patient.. and optimistic - these are the two things which always helped Russians to survive.."
Mike has decided he will head back to Alaska while he is waiting for visa and permit procedures to be completed. From there we will be able to send him new material and prepare him for the coming winter.
Of course Mike is a little disappointed not to be moving. He is eager to get going again. " Now that the weather is good I could be making good progress on my Trek bicycle. But now I may need to wait another month so I might be leaving directly on skis!!" Mike continues, "The countryside here I unlike any I've ever seen. Quite spectacular! Also the people, once you get to know them, they are incredibly kind. I'm excited about discovering this beautiful country and am pretty sure it'll be worth the wait!!"
Communiqué - 7th September 2003 - Still in Provideniya!
Since the 26th of August Mike has been sitting in a small apartment in the east Siberian village of Provideniya. Mike has been passing the hours and days waiting anxiously for some good news about the permit that will let him leave the village and pass on foot over the region of Chukotka. (The region extending from the east coast of Siberia to Ambarchik).
The news that we have is that the permit is now out of the hands of the government and has become a federal concern. There are concerns about his safety and there is mention that he will only receive the permit if he has a Russian escort with him. If that is what it takes we will find one!! Mike has the kind help of Mr Vladimir Bitchkov, who has dealt before with these procedures. With his aide and that of Groupama Assistance (principal sponsor) we remain optimistic that Mike will soon be given the permit to move again. Uncertain how long it might take to find an escort or to finalise the permit procedures, Mike must just relax and be prepared for a wait of some days, weeks or perhaps even months.
The Trek bicycle has been air freighted to Alaska. Mike hopes to meet up with it in Egvikinot (west of Provideniya). From here he has been told that there is a road that leads up to the north coast and perhaps up even further to Pevek. This will speed up Mike's progression enormously if this is the case. The question remains - how will the escort follow?!?
Communiqué - 27th August 2003 - Mike arrives at Provideniya - Siberia!
At 0900hrs GMT on the 26th of August, Mike arrived at the small Siberian village of Provideniya.
After leaving the Alaskan coast on the 21st of August, Mike was faced with a few problems. The first - no battery power! Mike was stuck at the back of the boat for two days unable to leave the helm whilst sailing in strong winds and large swells. Easterly winds pushed Mike in a direct westerly line towards Vankarem. At 120kms away from Siberia and with the coastline in view, Mike called his brother Martin to see if he was in position at Provideniya, ready to receive the boat and sail it back to Alaska along with skipper Ronan Le Goff. "Mike we are stuck in Nome - no flights are scheduled for Provideniya" said Martin. With this, Mike turned his boat and sailed back over the Bering Strait, to the Alaskan coast, picked up Martin and Ronan in Teller and then the three of them headed back to Provideniya.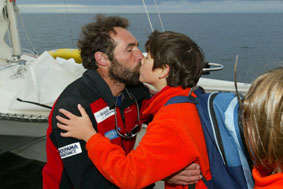 Mike rang his wife Cathy at 1000hrs Swiss time. "We are happy to arrive in Provideniya!" says Mike. "You could never imagine what we have been through. The meteo was favorable when we left but it suddenly changed and we were caught between two weather systems, cyclone and anticyclone. We experienced winds of (at a guess) around 50 to 60 knots. My 24ft Corsair trimaran was battered around like a cork on the wild ocean. Amazing how it held up! Great little boat! There were times when we thought we would never make it! I never imagined I would be so happy to land on Russian territory."
The bad weather has moved further south and Martin and Ronan are already sailing back to Alaska. Once they arrive they will get the boat onto cargo and send it back to Seattle. Mike has been instructed to wait in Provideniya until he receives the correct visa which allows him to walk through the Chukotka region. This may take a while. In the meantime he must try and figure out how he will get back above the Arctic Circle.
We are hoping that everything will run smoothly for Mike with regards to visas and permissions.
Communiqué - 10th August 2003 - N70°00.256 W162°27.491 - Only one day from Point Lay! "Everything seems to be going as planned", says Mike and just at that moment his last battery cuts off . Nothing to worry about however! Mike's brother Martin, is waiting for him only 40kms away at Point Lay, with a 24ft trimaran (Corsair Marine) - the boat that will eventually get him across the Bering Strait and into Siberia.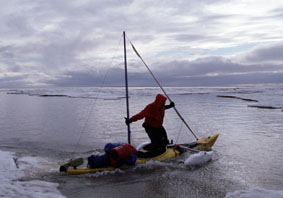 Mike had an interesting week. "Walking from Barrow to Wainright wasn't so easy. I wasn't used to carrying a backpack. The extra weight, along with the soft sandy shores and swamplands made progress difficult. The storms too, continued to hit the coast, easing only a little from time to time.
At Wainright, Hageland Air gave me back my kayak. It was only then I started hearing about the 'Spotted Seals'. The spotted seal is commonly seen in coastal waters of northern Alaska and the locals warned me about this aggressive animal. Apparently, a few years back, the spotted seals actually ate a kayakist not far from Wainright. To tell you the truth I didn't take them seriously at first, or at least until a few days later! It was only then that I started noticing the seals coming towards me. They come up close and follow the kayak, often jumping out of the water. It's almost as if they are trying to flip me into the water at times. The locals were definitely speaking the truth!"
"I'm also back in grizzly country. There are a lot along the coastline. I saw two yesterday, but from the safe distance of my kayak. At Point Lay I will meet up with a boat and will sail down to Point Hope where I will join up once again with my family, some friends, and some members of the Commune of Château d'Oex who have offered support during this leg of the expedition. I'm looking forward to seeing a few of the faces from back home, especially my wife and girls who I haven't seen for almost 5 months."
Mike was hoping to sail from Point Hope in Alaska through to Vankarem in Siberia. He has now been told that be may need to sail South down to Provideniya which is far below the Arctic Circle. The reason for this is that Provideniya is the only place on the eastern Coast of Siberia where the immigration and customs officers are posted. Mike MUST deal with all customs and immigration procedures immediately on arrival into Siberia. We are still trying to get Mike the permission to enter into Vankarem but this will mean that the officers will need to be flown up to Vankarem. So fingers are crossed. We should know more within the next week. We'll keep you posted!
Mike sends his regards to you all!
Communiqué - 30th July 2003 - Storms, storms and more storms!
Mike arrived at Barrow on the morning of July 23rd. His arrival coincided with the arrival of another sailing vessel 'Vagabond', which is currently sailing the Northwest Territories on a polar expedition. As Vagabond were moving their sailboat away from dangerous waters to a safer lagoon up north, east of Point Barrow, they crossed paths with Mike in his kayak. Each was not aware that the other was there. It was a wonderful surprise for Mike to meet up with the skipper and friend, Eric Brossier and they were able to spend the next few days swapping tales about their exciting Arctic adventures.
Ever since Mike's arrival in Barrow, the North Alaskan coast has been struck again and again with a series of depressions and gale force winds. The huge waves off the coast are making it impossible for Mike to leave again. A slight abatement allowed Vagabond to pull up anchor and leave the lagoon on Saturday July 26, just before the storms resumed on Sunday.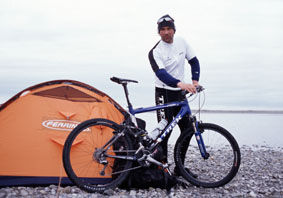 On Monday, July the 28th, more gale warnings and a storm watch were announced in Barrow, and the local Eskimos were prepared for a big one, closing windows and tying things down outdoors.
Mike is anxious to keep moving. It remains imperative that he crosses the Bering Strait before the water starts to freeze again. The weather forecast predicts a series of depressions that could continue relentlessly for months so Mike has the decided to abandon his kayak and set off on foot. Hageland Aviation have kindly agreed to freight the kayak further down the coast so Mike can choose if he wishes to use it again once the storms have subsided.
Being stuck in Barrow has been a wonderful experience for Mike. The Alaskans who have the same adventurous spirit have adopted him and made his break there a good one. New friends, Kristin Lambert and Wendy Knight say, "We thought when we came to Barrow, we'd experience the isolated Arctic and live with the natives, but instead world adventurers are coming to us! It's fun being the safe haven for those who travel the Northwest Passage this year."
Several concerned Alaskans are trying now to create waves in the international arena and help Mike by making his entry into Russia easier, since there have been numerous complications. Connections have been made to get influential assistance, so we'll see if it helps.