ARKTOS EXPEDITION / MIKE HORN


After his abandon on Arctic Icepack last spring (2002), South-African Mike Horn goes on with his
longterm adventure around Arctic Polar Circle
Here are the press communiqués published during the spring 2002
20th April 2003 - Mike calls from Cambridge Bay N69 07.610 W105 03.590
Mike arrives at Cambridge Bay, at 11am local time, completing the crossing of Gjoa Haven through to Cambridge Bay in a short 15 days.
"The crossing was great! Everything seemed to be in my favour and I managed to do an average of about 30kms a day. I'm happy to say that the temperatures are slowly getting warmer, but along with the warmer temperatures also comes the snow, and quite a bit has fallen in the last few days, making it a bit of a battle to pull my sledge."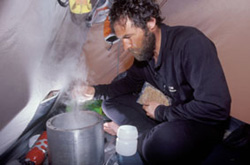 "You would never believe it! Until now I have been battling constantly with head-on winds, and all of a sudden, on the last two hours of the trek, the wind came from the east. I immediately got out the kite and within half an hour, there I was, with Cambridge Bay in front of me. The kite is a heavy thing to lug around if it is not used, so I am glad at least I got that half hour of use!! The weather forecast for the next few days also predicts easterly winds. I wondered if I shouldn't take advantage of it and pass completely by Cambridge Bay, but I do not really have the choice, as I have a food package to pick up and I must also do a few minor repairs before I continue on my way."
"From here, my next planned stop will be Paulatuk, west of Coppermine. The meeting with the Norwegians was great. It was fantastic to have company for a change. We told our stories and swapped information about the terrain we were going to encounter, as well as GPS positions and the like. The following day we ate breakfast together and then we parted company and headed off in our opposite directions. The information they gave me was positive. Apparently ice conditions are good and relatively flat."
"Not eating much today. My wife reminded me that it was Easter and I ate too much chocolate!"
"Have a wonderful Easter!!!" / Mike
Communiqué 12th April 2003 - Mike calls from position N68°39.049 W100°29.588
A week ago I left Gjoa Haven and since then, I have been progressing well, doing an average of 27kms a day. The ground has been relatively flat making progression easier than usual - just a shame that the wind is still in the wrong direction, mainly northwest, so blowing (as usual) straight into my face. The temperatures are warming a little, and believe it or not, I can feel the heat of the sun in the tent in the morning. Leaving the tent is very difficult because I'm once again, back out in the cold and battling against a head-on wind with a wind chill factor of -45°C.
Surprisingly enough, there are two other Norwegian men (Randulf Valle and Bengt Egil Rotmo) doing the same as me, but in the other direction. They started their trek early March in Kugluktuk (otherwise known as Coppermine), and will pass Cambridge Bay, Gjoa Haven, Arctic Bay and finish in Pond Inlet. Rumors are that they left Cambridge Bay two days ago so I guess that we may even bump into each other within the next few days. It'll be interesting to meet up with them, especially out here where you would swear that you are the only living sole on the planet.
I wrote a note to my girls yesterday and hid it securely under a rock, on a small island, south of the Royal Geographical Islands. I've noted the GPS position of this note, and one day, perhaps one day, one of my girls will come and find it again. It'll be interesting to see which one will follow in my footsteps. I could well be dreaming! Perhaps neither of them will! What satisfaction it would give me to know that, through what I have done, they may be inspired to travel and explore the world. It has to be the best lesson that life has to offer!
Around 50kms until I reach Jenny Lind Island then about another 150kms through to Cambridge Bay. The ice conditions are known to be quite rough around the island. I know more when I get a little closer. If all goes well, I may be at Cambridge Bay in a weeks time!
Mike.
Communiqué 6th of April 2003 - Mike calls from position N68°37.780 W96°32.024
"It was a fantastic stop-over in Gjoa Haven. I had wonderful time with my wife and daughters, but of course the time flew by too quickly, and they are already back in Switzerland."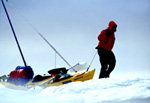 "Gjoa Haven is a wonderful village. Here, a few of the elders in the community still live as they did many years ago, before westernised culture was introduced. We were privileged to be welcomed into an igloo inhabited by two elderly Inuit women, who were in the process of softening the hide of a caribou. Unlike their young, they could not speak English and spoke only in the ancient Inuktuk language. People like these will soon become extinct as the older generation die. We can only hope that the younger generation can strive to save the traditions and culture of the Inuit people and not let the westernised way of living take over completely."
"I left Gjoa Haven yesterday, the 5th of April, after saying goodbye to my newly made friends. I'm happy to say that my nose is completely healed and I'm eager to move again and make some progress. Ideally, it would be great to reach the Bering Strait by the end of summer, but there is a lot of ground to cover, so I better get a move on!! Did 27kms on my first day. It'll take just over two weeks to arrive in Cambridge Bay. I heard that the ice is relatively flat but unfortunately the wind seems to be always coming from the west so I cannot use the kite. You never know, I might get lucky and the wind direction might change(?!?)"
"Temperatures still remain rather cold. Wind chill today is -35°C. The bad news is, that snow has been forecasted and that can slow my progress down immensely."
Best regards, Mike
Communiqué 25th of March 2003-Mike arrives at the village of Gjoa Haven
"I have been looking at the village lights for two days now. It felt as if I was never going to arrive, but here I am at long last, and back with my family .I haven't seen my girls for six months and my goodness how they have grown!! It's great to be back together again and wonderful that they can share a little of this experience with me." Mike gradually appeared from the horizon pulling his sledge behind him. His girls, Annika and Jessica ran up to him - once again they were in the arms of their Papa - a wonderful compromise after six months of waiting. A group of friends from Europe and he local people were also here to meet him.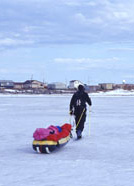 The Inuit's had already heard about 'the walking man' in the local newspapers and were eagerly awaiting his arrival. This evening celebrations have been organized by the community. Mike will be officially welcomed by the Major of Gjoa Haven followed by the traditional drum dance and festivities.
Mike is happy to be back in the friendly company of the Inuit's and is looking forward to spending some time with his friends and family before he continues on his westward route to the next village, Cambridge Bay. "My nose got a bit of a freezing and is a bit black at the end. Not the prettiest sight! A few days of warmth and it will soon get better. It is important that it does before I leave again.I must catch up on what has been happening in the world. I am so oblivious to what is happening. I would just love to get the big boys here with me in the Arctic - they could fight for their own survival rather than killing innocent people."
Thanks again for all your thoughts and encouragement. / Kind regards, / Mike
Communiqué 17th March 2003 - N68°37.187 W91°52.821 - Progressing well!
Our friend Ron, the local RCMP (Royal Canadian Mounted Police) of Pelly Bay, took these photos when Mike left. "You meet fantastic people in these little villages. The longer you stay, the harder it is to say 'Goodbye'. In fact, it started getting late so I decided to wait one more day and left only on the morning of the 13th of March."
"It's amazing how quickly your body re-adjusts to the warmer climates again. I was told that there would be a lot of wind in the bay and there certainly was! Westerlies blowing straight into my face with a wind chill of -49°C. One day back in the cold, and there I was, back at zero, my nose and lips blistered once again!"
"Ever since then, I've settled back into routine and progression has been steady. I have been doing 23 kms a day. Yesterday I did 31kms. I was on Simpson Lake, a narrow lake lying across the peninsula and making an obvious path for me to follow. I slept at the western end of the lake last night and today will need to find another path to get me to the coast. I imagine it'll be a lot more difficult today."
"I had the chance to spot a wolverine yesterday. I believe they are quite rare. Beautiful creatures! No more bears at this stage which is a great relief!"
"Southeasterly winds have been forecasted. They'll be blowing in my favour for a change - straight towards Gjoa Haven. I'll send an update as soon as I arrive!" / Mike
Communiqué 11th March 2003 - Getting ready to leave again!
After 10 days rest, Mike is getting ready to head off again. "It has been an important rest for me. I needed some time for my few wounds to heal. Only a small scab remains on my nose and my few blisters have now disappeared."
"I've had a great time here. The elders and local people have gone out of their way to help me and have given me maps and useful information about the route to the next village. They even had a village feast for me last night, with drums, singing, the works! It was wonderful and their kindness is very touching." ....special thanks go to Pat from the Coop and Ali Dia (the first Lebanese in the Arctic) from the Inukshuk Inn."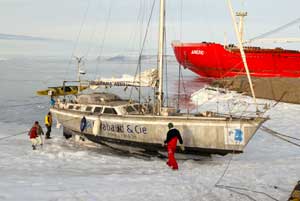 "I did a check on the weather and it seems to be relatively good for the next few days (and I hope a little warmer than before!!). There are many hours of daylight now. The sun comes up and you can feel the difference in temperature. The wind chill however, is still down to the -50's, so I must still be very careful. More light hours mean that I can walk for longer hours during the day and my progression will start to get faster and easier."
"Today - just the final touches. I am sorting and repacking my sledge and tomorrow I will head off again. It's a 250km trek until the next village, Gjoa Haven. It shouldn't take more than two weeks so I can reduce my food and fuel supplies and will have a lighter load to pull. I have also heard that the ice is relatively flat in places. (I'll believe it when I see it!!). My family will be meeting me in Gjoa Haven so it is a good motivation to get a move on. It's been a while since I've seen my two little girls."
"Many thanks to all the people who have sent letters and e mails. My crew bring them out at each visit and I enjoy reading them all. Sorry I cannot reply in person but they are greatly appreciated."
Kind regards to you all. Mike
Communiqué 1st March 2003 – Pelly Bay
"It was a wonderful feeling. The sun was setting over the small village of Pelly Bay and I could see the lights from he houses. It was so beautiful. The closer I got, I noticed the people moving – they were coming out of their houses and were coming to greet me. After 700kms of hard slog under extreme conditions, here I was at long last, at Pelly Bay."
At 2200hrs GMT time, on the 28th of February, Mike arrived at Pelly Bay, signifying the end of an extremely difficult leg. Experiencing temperatures ranging from –40°C to –60°C, Mike battled day by day to protect himself against frostbite and to progress over difficult ice packed terrain.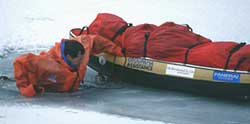 As if battling against the cold wasn't enough, Mike needed to stay constantly on the alert for any polar bears, all heading to the open water in the middle of Committee Bay. He spotted bears virtually everyday but luckily not one created any problems. "I just want to warm up for a few days before heading off again. It'll give time for my wounds to heal. It's impossible not to get a few signs of frostbite, blisters and the suchlike after walking in these conditions. My logistics team are here to re-supply me once again with food and clean clothing. It's great to see some friendly faces."
It's a monumental moment for Mike as his arrival in Pelly Bay represents the turning point of the expedition. He can now finally start his progression to the west and continue his planned projection around the Arctic Circle.
Communiqué 23rd February 2003 - Mike calls from the North Cabin -
position N67°54.587 W88°18.483
Great news!! After one week of full on walking Mike finally makes it to the western side of Committee Bay!
"Once reaching the southern point of Wales Island, I decided to start my turn to the west. The locals told me to head further to the south before doing so, but I couldn't resist trying a little earlier. At first, I came across terrible pack ice and the going was virtually impossible, and then, as if by some amazing circumstance, I came across a path, leading directly to the west. I couldn't believe my luck. Finally things seemed to be working in my favour. I was able to travel along this path for one full day, finally in the right direction!"
"A day later, in the middle of Committee Bay, I came across a lead, (a large canal of open water) and was once again forced to head down south. At position N67 45.017 W87 20.02, I was able to change my direction to northwest and could go all the way to what is called the North Cabin, on the west coast of Committee Bay. Today is a rest day for me and I feel it is well merited. I'll stay in this North Cabin (which is a hut with 4 planks of wood for walls and 5 metres of snow for a carpet) today and just rest my tired body. It has been very difficult battling constantly against the cold temperatures. My fingers are sore and sensitive, showing the first minor signs of frostbite. This is normal for the conditions I have experienced. I'm just glad that I could keep the frostbite under control."
"Best news yet - in one week, I'll arrive in a little village called Pelly Bay, and will meet up with my logistics team for another re-supply of food and batteries. I dream about getting out of the cold and especially to be in the company of other people. A few days of warmth will heal my aching fingers and prepare me for the next crossing towards Gjoa Haven,"
"I also hope to send you photos very shortly." "Kindest regards to you all!" / Mike
Communiqué 16 February 2003 / 76°54'158N 68°12'034 O -
Today extreme windchill, minus 60 ° !
Further contact was made with the Inuit elders of Pelly Bay and it was confirmed once again that Mike would need to descend down to the south of Committee Bay before starting his course to the west. "You must have a lot of patience," says Mike. "I'll get to Pelly Bay two weeks later than expected because now I must descend to the southern point of Wales Island rather than crossing over on the northern point."

"This last week has been extremely cold!! Most days down to -57°. Today the temperature is -60°C with wind chill. This is real survival! I'll freeze if I stay in the tent. Everyday I pack up my things and get moving again. I must move to heat up my body. While I'm walking I have to stay so concentrated on what I am doing, the wind direction, my body heat, position of the sun etc. Yesterday, I stopped a little later than usual and had problems lighting my stove. My hands were just so cold!"
" A few days ago, I came across a deserted military air base and inside a shed I found some fuel. I took advantage of this and decided to have a rest day. I was able to burn fuel for the entire day. It was great! I managed to get ice out of some of my clothing but most importantly out of my sleeping bag, which slowly accumulates over the weeks."
"Saw two bears yesterday - That makes six in all over the last week. They all seem to on their way to the western coast of Wales Island. Apparently they can smell open water from 50 miles away. I imagine that they are all congregating there. It's also full moon and the tide is high. The ice must be cracking open and I imagine the seals are there for the taking."
"I will not be joining the party. Instead, I will be staying on the eastern side of the island and in another 36kms will turn westwards around the southern point. From there, ice conditions permitting, I will start heading northwest towards Pelly Bay. 224 kms to go. If I continue at this pace I'll get there around the beginning of March."
Communiqué 7th February 2003 / 68°48' N 85°30' O -
Stopped by another blizzard...
Back in the tent again, and this time the temperatures have dropped even lower. Before they said, 'Very cold wind chill', and now they are reading, 'Extreme wind chill'. Temperatures vary from -57°C and this morning, were reading -60°C!! The storm is expected to last two days.
"Nothing to do but sit it out once again." says Mike. "The wind is in a south-westerly direction which means it is blowing directly in my face. At these temperatures, I'll loose my face very quickly if I'm not careful. Even protected inside the tent has it's own difficulties. I woke up this morning and my nose was literally frozen to my sleeping bag. It's inevitable that you loose a few layers of skin! No matter how hard you try to protect yourself, you just cannot win! My equipment, such as GPS, telephone, etc, are also having problems working in these temperatures. It takes forever to get them warm enough to function. You can imagine what an immense pleasure it is for me when they do!"

" Bears all over the place here. I have seen them everyday, and they have seen me. They have approached a little but just out of curiosity. I have been told to make myself look big - I guess I do look big with my sledge dragging behind me and they obviously don't like my smell because they don't approach any further. Beautiful beasts! Haven't had the courage to film one yet, in fact, that is the last thing on my mind when I see one. My tent is pitched on land at the moment and unfortunately I am close to water. There are fresh tracks of a mother and her two cubs just nearby. I certain hope they don't come back and find me parked in their place! I really should move to another spot but can't do anything until the blizzard has calmed."
"Progression has been steady over the last few days. Am still bothered by huge pack ice. I need to scout out the terrain by climbing up onto the highest blocks. It is usually then that I spot the bears - otherwise, my view and the bears are totally obscured."
" I got news from a local hunter in Pelly Bay today who said that there is still a lot of water in Committee Bay with strong currents. He said I must continue further down south before turning west. It's dissappointing news for me. I've been wanting to head westward for 4 months, and now....yet another test on my patience...
...I must wait even longer!"