ARKTOS EXPEDITION / MIKE HORN


After his abandon on Arctic Icepack last spring (2002), South-African Mike Horn goes on with his
longterm adventure around Arctic Polar Circle
Here are the press communiqués published during the spring 2002
16th July - Mike celebrates his birthday 50 kms west from Prudhoe Bay
"I haven't been advancing at all as I would have wanted. The weather has been particularly lousy this last week with heavy rain, snow and winds."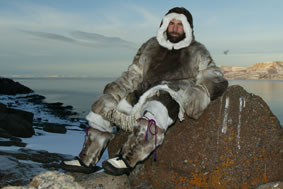 "I was greeted three days ago by Sebastian Devenish, expedition photographer and Raphael Blanc, expedition cameraman. We spent the last few days taking images under terrible conditions before they got their flights back home to Switzerland."
"My birthday was celebrated one day earlier with the team before they left. Now I am back on my own. I'm sorry I cannot be with my family on my birthday but will enjoy speaking with them all on the phone."
"37 years old today! The years are going by quickly. At least I can say I have done a lot with my life. It's a satifying thought. Even so, there remain quite a few more years ahead of me yet. I wonder what the future has in store. I enjoy thinking about it. The world is a big place and there is still so much to be explored."
Regards to all my friends back home! Mike Communiqué 5th July 2003 - Mike leaves Kaktovik
At 10:00pm Alaska standard time Mike left Kaktovik to head west towards Prudhoe Bay. The weather was beautiful and he had a good tailwind to speed him on his journey. Police Officer Robert Haskell took this photo of Mike just prior to his departure.
"I stayed for two nights in Kaktovic. I managed to do all the imigration procedures and repair the rudder of my kayak which broke a few days ago when I hit some ice. Also shaved off my beard. You won't reckonize me!"
"I hear that there is not a lot of ice up the coast so progress should be okay from here on. It seems as though I'll get to Point Hope in good time so the stress is off me a little. I can take some time to enjoy this magnificent scenery."
Regards to everybody back home! Mike


Communiqué 29th June 2003 - Mike reaches Alaska - stage 5 of Expedition Arktos begins!In September 2002, Mike Horn first set foot on Canadian territory. Today, at 0800hrs GMT, 10 months later, Mike crossed the copper landmark representing the border between Canada and Alaska. This significant moment was shared in the company of around 20'000 caribou, well-know in the region as the 'Porcupine Herd'.
Mike says, "It was a magical moment and nature was there to help me celebrate!"
"It's amazing to think I finally made it into Alaska. There were times when I thought I would never make it. I have huge satisfaction to pass this landmark today. Canada really was an incredible learning experience - a test until the bitter end!" "I was forced to make huge detours due to the late ice freeze which added an extra five months on to my trip. My tent caught fire while I was changing the fuel bottle on my stove. I encountered the migrating polar bears in Committee Bay and the grizzly's at Baley Island. All this during the dark winter months and with temperatures as low as –60°! These may have been some of the most gruelling few months I have ever experienced in my life."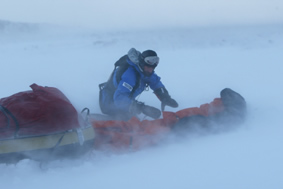 "Once in Pelly Bay, I could finally continue on my planned westward direction and appreciate the astounding beauty of the Arctic region, the animals and the inhabitants. The region is rich with culture and tradition and I am privileged to have lived a little of it through my meetings with the Inuit elders."
"Now, summer is here and the ice is melting. Progression is easier with 24hrs of daylight and warmer temperatures. As the Mackenzie Delta was too dangerous to cross on foot, I was forced to exchange my sledge with a kayak. Now yet another test – all of a sudden there is no more water! Two days before crossing the Alaskan border there's only ice and I'm obliged to pull my kayak as a sledge. The ice is built up around the northern coastline and I must decide whether I must abandon my kayak and continue on foot."
Decisions are crucial at this stage. Mike wants to get to the west coast of Alaska before the end of summer. At Point Hope he will sail over the Bering Strait into Siberia continuing his 20'000kms tour around the Arctic Circle.Communiqué 19th June 2003 - Mike leaves Tuk!
"A cold spell delayed my departure from Tuktoyaktuk. A few warm days later and the ice has melted enough for me to continue on kayak. The coastline is now clear and I can see the ice sitting further out."
"From Tuk, I will head SW down the Mackenzie River into Mackenzie Bay. At least, I know that the ice has completely melted there. I may encounter some ice patches later on along the coast but it will all depend on the weather. For now at least the forecast is good, with warm days ranging from 0-4°C."
"Many thanks to my friends Norma and Paul, who let me stay at the Tuk Inn, in Tuktoyaktuk. As usual the people in these parts overwhelm me with their hospitality."
"The next few days will be interesting. It's a whole new ball game being on a kayak and not pulling the sledge. It'll take a while to settle into a new routine but I'm looking forward to it."
"Will write again soon." / Mike
Communiqué 12th June 2003 - Still in Tuk!
Well here I am, still in Tuktoyaktuk! It's been an interesting visit but I'm impatient to move again.
My watch sponsor, Panerai, came to meet me and bought a few journalists with them. It was great fun to spend three short days in their company and to share a few of my experiences with them. They already left a week ago, along with my logistics crew, and ever since then I've been waiting to head off again.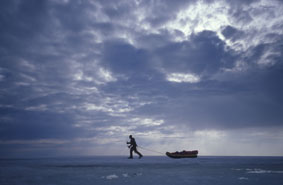 I finally took the plunge and said 'goodbye' to my sledge that I have been dragging behind me for the last 5 months. Now I am left with my Prijon Kayak. It's a great kayak which has been rigged with floaters and sails to aide me with the long hauls that I will be doing. Now it is just a matter of waiting for the ice to melt. Temperatures are warming up and conditions are improving everyday. I hope to be on my way again very soon but need to wait until the ice has completely melted and the shoreline is freed. At this stage the water lies further out. It would be possible to leave straight away but as I only have limited days food with me, I prefer to wait until conditions improve, rather than leave, have difficulties, and eventually run out of supplies.
Believe it or not, I am actually passing my time writing postcards. I haven't done that for a while! Its a good time to think about my friends and family back home.
No grizzly's around the village but I hear that there are a few further out. Very soon, I'll need to protect myself against the mosquitoes. They're almost worse than the bears from what I understand!
I'll send a message to let you now when I'll be leaving. / Mike
Communiqué 14th May 2003 - N69°46.079 W121°21.792 / Oh-boy, I've had some fun!
"One week ago, I arrived on the mainland and since then have been travelling west along the coastline, sometimes on land and sometimes on the sea ice. The coastline must have be hit by a terrible storm during freeze-up, as there is terrible pack ice in places. Unfortunately, I can't avoid it by simply moving onto the land, because there too, the conditions are difficult, with huge cliffs and rocky terrain. The coastline is unprotected and seems to be hit often by vicious storms. I've experienced terrible winds which have kept me in my tent a few afternoons but seem to calm later in the day."
"My day starts at midday when I wake up. I normally leave the tent around 2pm and walk straight through the evening until 2 or 3 am. It's wonderful to have light to help me. I feel as if I am becoming a bit of a walking machine, one leg in front of the other, never stopping. One day I walked a record 44km - other days a little less, but in all, excellent progress!"
"I have also had the chance to get my kite out and take advantage of some easterly wind. It has be said that using the kite is great fun, but oh-boy, it can be dangerous with these gusty winds! I'm going along nicely then all of a sudden the wind picks me up and I start literally flying like a rocket over each bump. I stop myself before it ends in disaster. I certainly get my thrills for the day! Yesterday, the conditions were better and I was able to use the kite for a short period. I advanced 65kms! I need to change the kite as soon as I possibly can, for a smaller one that will be better suited to the conditions and won't be quite so dangerous."
"I've seen a lot of seals this last week and I also saw some bear tracks. I better start looking out for bears as one was spotted along this coastline not so long ago. I certainly hope I won't be mistaken for seal meat!!" / Mike
Communiqué 7th May 2003 - N68°45.326 W114°56.396 Back on the mainland - and just in time!
"I arrived on the mainland yesterday but not without one or two hiccups!"
"I was previously warned about the open water in the Dolphin and Union Strait and was looking out for it. I was crossing the so-called danger zone and was aware that the ice was changing. Suddenly there were more seal holes in the ice than before. I was able to examine the thickness of the ice at the holes and I suddenly realised I had gone too far. I was already on the open water but hadn't realised it. What I was walking on, was in fact, a thick layer of snow that had settled on the waters' surface. Virtually impossible to know I was walking into danger! I quickly turned south, and then my right foot slipped through the snow and was in the water until the knee. I was lucky! I rolled to safe ground and continued west to the coastline of the mainland, at the same time slaloming around patches of sea water."
"Now the water crossings are over with and it's just as well. The temperatures are warmer and the ice is melting quickly. Soon, walking on the sea ice, will be like playing 'Russian Roulette'. Games like that don't appeal to me much!"
"The last week has been fantastic. In one day, I advanced 52kms after using the kite for just one hour. On Monday, I was even luckier and managed to spend more time with the kite and did 90kms. I startled hundred's of caribou with the noise of the kite as they were migrating from the mainland to Victoria Island. It was a beautiful sight - wish you could have been there to see it with me!"
"The warmer weather brings the animals out of their hibernation. It's great to suddenly see colour and movement in this barren environment. Also, in just another week they'll be 24hours daylight. Nowadays the sun rises at 4am and sets at 11pm."
"It's a rest day today. I need it after 10 days of walking for 12 hours each day. I have stopped on the dewline point where my friend Peter and the helicopter pilot left a food package for me - fresh apples, pineapple, chesse and eggs! It's like Christmas all over again! Thanks guys!!! The helicopter pilot is due to come back either today or tommorow. It'll be great to see him again." "I will soon be changing my equipment, either a kayak or a Trek bicycle. All depends on the conditions of the land and sea." "439kms until Paulatuk which should take 12 days or thereabouts."
Kind regards, Mike
Communiqué 1st May 2003 - Progress is good! N68°58.077 W107°40.633
It's been a good week. The weather fluctuates anywhere between -10°C and -25°C. A great improvement to the -60°s I had a few months ago! Yesterday, I did a record distance of 37kms and still with no kite!! I tend to finish walking around midnight. It's better to walk in the evenings as the ice is colder and the skis slide easier. Consequently each morning is 'la grasse matinée' - not bad!
A fantastic thing happened yesterday. A passing helicopter stopped and the pilot gave me information about the ice. Apparently south and north of Lambert Island there is open water complete with white caps. Also the ice north of the island is very rough, has ridges and broken pieces, obviously it must have been very stormy during freeze up. I have no choice but to cross over the Dolphin & Union Strait further south than expected, from Lady Franklin Point to Cape Krusenstern, and from there I can continue to follow the coastline towards Paulatuk.
Also, a huge grizzly was spotted by the pilot just a few miles north of Cape Young. It's quite early to see them apparently - they normally only appear next month. Cape Young is still a little way away but at least it's good to have some warning that they are about.
My aim is to do 100kms every three days to arrive at the Bering Strait before freeze up - better get a move on !
Will send another update soon ! Mike
Communiqué 27th April 2003 - Time to leave again!
At 1300hrs local time Mike left the small village of Cambridge Bay.
"It was short stop-over, but necessary, as I managed to make all the minor repairs to my equipment. Now I'm ready to leave again."
"The temperature is warming up quickly and the ice is already beginning to melt. I need to get moving as soon as possible before it becomes impossible to cross over to the mainland! Best thing about the warmer temperatures is that I can finally shed a layer of clothing so can travel just that little bit lighter.""750 kms to go until Paulatuk. I guess it'll take about 25 days if I continue with my average of 30kms a day. Lots of snow has also fallen recently. I do hope it'll stop and the wind will turn in my favour. We'll see!!As usual, the Canadian people have been very kind and helpful. I must thank Angela and Bill from the Co-op, Roger and Chantelle, and Peter Semotiuk for all they have done for me."
"I'll be in touch soon!" / Mike