Thursday 25 March 2004 / Information Bulletin
The Finnish Central Association for Recreational Sports and Outdoor Activities (Suomen Latu ry) has worked around the clock for over two weeks in the search for their employee and Managing Director of Kiilopään Tunturiretket Oy, Dominick Arduin.
Although the trek to the North Pole has been Dominick Arduin's own project and conducted in her free time, using her own financing methods, we have wanted to help with the search for Dominick by voluntary work using the funding of friends of the Association. Indeed search and rescue activities are included in the work description of The Finnish Central Association for Recreational Sports and Outdoor Activities (Suomen Latu ry).
In reply to questions presented by some explorers, we wish to emphasise that The Finnish Central Association for Recreational Sports and Outdoor Activities (Suomen Latu ry) and its affiliated institutions has not encouraged Dominick to pursue such a trip. Nevertheless, we are still searching. The search operations of The Finnish Central Association for Recreational Sports and Outdoor Activities (Suomen Latu ry) has included liaison with e.g. authorities, embassies, experts and of course constant contact with the French-based Cerpolex, the tour operator responsible and is also responsible for the search. In addition, we have been monitoring numerous international web pages.
When the search was about to be discontinued last Thursday with a service flight, we were able to negotiate an additional effective search for Friday. We have committed ourselves to participate in the costs of the search. Friends of the Association will have the opportunity to participate in connection with the next issue of the Latu ja Polku publication.
We are pleased to hear that the Rural Chief of Police of Inari has managed to make contact with the Russian authorities that have reported their own search activities. We have done our utmost to help make the search operations more efficient and to direct the search to new and wider areas.
The Finnish Central Association for Recreational Sports and Outdoor Activities (Suomen Latu ry) as an association for the promotion of fitness sports does not have the facilities to financially participate in the work of the authorities. However, we believe that the authorities will continue the search... and we will continue to do our best to influence these and Cerpolex.
In closing, I would like to express thanks to the hundreds of people that have contacted the Association: thank you for your help, support and empathy! The work goes on...
Tuomo Jantunen, General Secretary, The Finnish Central Association for Recreational Sports and Outdoor Activities (Suomen Latu ry)

March 21st 03 2004 14:45 / Day 17 / Searches trying to locate
Dominick Arduin abandoned.
This Friday evening 19th March, Cerpolex took the decision to abandon the search being conducted to try and locate Dominick Arduin. The previous day and the day before that, the two MI 8 helicopters that were on standby at Stredny for this rescue operation again rotated in their search on the mornings and afternoons of Thursday and Friday. They refuelled at Cape Arktichevski at a special fuel dump that had been set up there specially so that refuelling operations for trips to and fro would take as little time as possible. Apart from Chamart-Boudet's headgear, the pilots and their co-searchers aboard the aircraft were unable to find any trace of the Franco-Finnish explorer, Dominick Arduin. The search operations were called off for good on Friday evening, at least in terms of the Cerpolex logistical side of the operation.
Because what is odd about this whole disappearance matter is that Cerpolex has received no official request from the family, the sponsor, the insurance company, the home base or simply from the back-up team. The Finnish government has simply issued a statement - to the Russian authorities - about the disappearance of a Finnish national on Siberian territory.
This communication has not even received an official acknowledgement from Moscow. Which just goes to show the level of esteem that Russian officials grant to any adventurers who set themselves the challenge of attempting to cross the Arctic pack-ice.
12 March 2004 10:45 / Day 8 / Dominick's old campsite located!
Late yesterday evening and this morning Dominick's trainer Francois Bernard and Bernard Buigues from Polarcircle (formely known as Cerpolex) informed us more about yesterday's search operations. Helicopters had located tracks and what is hoped to be Dominick's old campsite. Tracks were found on the solid ice.
According to Francois Bernard it's still very difficult to estimate Dominick's current or past location. Strong winds affect the ice field and drift is very significant - up to 0.6 miles per hour. The search crew is still very cautious in giving more detailed estimations, but these tracks raise hopes for locating Dominick. Dominick has 17 days of food and fuel supplies with her. Her initial plan is to proceed up to 85. parallel, where she would have her first re-supply.
We wait for more information. Polarcircle told they'll release an official statement later today.
Update at 13:25 CET: so far we haven't received any new information.
11 March 2004 13:13 / Day 7 / Today's search ended with no results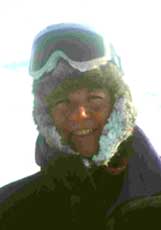 The search for Dominick ended today with no outcome. Despite good weather conditions Dominick was not located. The search crew will plan the tactics for tommorow later this evening. We hope to have a more detailed brief of today's search later today.
11 March 2004 11:08 / Day 7 / Good weather conditions, search continues
Search for Dominick started early this morning. Weather conditions and visibility are excellent. At 08:00 CET helicopters had patrolled the search area for five hours. It's estimated that there was two more hours of flight time left. Until eight o'clock rescue crews reported that there was no sightings of Dominick or her equipment.
The search patrol also took into consideration the possibility, that Dominick could have continued her expedition as normal, and the communication break-down is, as we hope, due technical problems.
The distance Dominick could have covered in perfect conditions has also been calculated - in this case 20-25 kilometers per day. The strong winds over the last few days have also been taken into consideration by the search patrol, in defining Dominick's planned route. Two helicopters are patrolling the area.
According to a representetive from Cerpolex information from Dominick's satellite phones is being analysed. We hope to soon have new information. Dominick has two satellite phones with her. Experts are trying to analyse Dominick's latest calls that cut off or those that could not be connected - and also the time when these calls were made. We will follow this situation and inform on any developements.
10 Marchs 2004 15:45 / Day 6 / Search for Dominick delayed until tomorrow
This morning at 07:20 Bernard Buigues from Cerpolex was still hopeful, that the search for Dominick could continue today. Weather conditions in this region change rapidly. This afternoon we received new information. The search is delayed until tomorrow.
Helicopters are hoped to take off early tomorrow morning. Bernard Buigues told, that the other expeditions will be on alert to inform the rescue crew, if they detect any possible signs of Dominick.
This latest information was received from Dominick's home crew who were contaced by Cerpolex.
According to YLE (Finnish Broadcasting Company) CLS, the French-based company that delivers the Argos-data, had done new calculations that showed some movement from Dominick on Saturday.
The previous information we had was, that the Argos-positioning beacon had only sent a weak signal, that was impossible to locate. The beacon had only sent a short beep, which didn't include any coordinates.
Now the specialists have succeeded in pointing out some movement sometime during saturday, reports YLE. We will follow this situation and inform on any developements in the search operation for Dominick.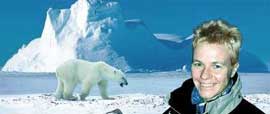 09 March 2004 21:41 / Day 5 / Search for Dominick will continue Wednesday morning
On Tuesday evening Cerpolex confirmed, that efforts for locating Dominick will continue tomorrow morning. Beneath is a direct quote from the email we received: "The helicopters will take off tomorrow morning at 0300TU. They take the full charge of kerosene to maximize the flights. They will survey the tricky area around FCB rescue position and 30 nautical miles north along the E 96° parallel. The wind is due to drop tonight, and we hope for a better visibility tomorrow."
Later Bernard Buigues from Cerpolex Ltd informed, that there will be two helicopters for the search operation. We hope to receive some results after 14:00 CET.
09 March 2004 15:42 / Day 5 / Fréderic rescued, Dominick not located
This afternoon rescue helicopters located and evacuated Fenchman Frédéric Chamard-Boudet. Frédéric had progressed 18 km before his accident. During the same mission the rescue crew were supposed to locate Dominick Arduin. Despite efforts to locate Dominick the mission was unsuccesful. Owing to bad light the mission was called off and will continue tomorrow morning. We will keep you informed on latest developements as we receive the information.
08 Marchmars 2004 12:43 / Jour 4 / No news from Dominick
We haven't received any new information about Dominick since last Friday. In her earlier phone call Dominick told she had switched on her Argos-beacon, but so far we haven't received any coordinate data. Yesterday similiar problems with their beacon was reported by Bettina Aller's website. With the latest news from Khatanga we were informed, that Frenchman Frédéric Chamard-Boudet had asked for evacuation. Helicopters will take off tomorrow morning.

05 March 2004 18:01/ Day 1 / It's a go!
Dominick's North Pole Expedition 2004 has now officially started! First day and 8 km is behind her - under the most inhumane conditions of the Arctic Ocean. This friday morning was emotional for every five expeditions heading for the North Pole. After spending several days closely together they're now on their own, all knowing the risks of Arctic explorations. Tears were shed as they said goodbye. As expected the ice conditions near the drop-off zone, and still near the continent, are difficult. First days will probably be the toughest with plenty of packed ice and open water.
Satellite images from Cape Arctichesky revealed huge gaps on the ice. Everyone hoped for a miracle, but that did never happen. The dark ocean remained exposed. There's 55 kilometres of open water in front of them - with no means to ski around it.


Three of the five expeditions decided to take the smaller risk by taking a helicopter across the opening. Unfortunately this means, that these expeditions can't be marked as a "full North Pole expedition".
Dominick and a frenchman Frédéric Chamard-Boudet made a different decision. They both will try to ski and paddle across the whole 55 km opening!
Though they started together and are heading for the same direction, it won't be a joint operation. Dominick got on the ice first and with lighter load she has already made a significant gap. She told she hasn't seen the frenchman since this morning.
Dominick estimated it will take her two days to get across. Luckily, if you consider it as a luck, the Ocean isn't totally open. There's some thin ice and few bigger ice floats that could offer some shelter. She took 10 kg of snow with her as it's probably the only way to get some drinking water. She has a kayak and a dry suit. She's very experienced in canoeing - thank God. Dominick will start the crossing tomorrow morning at 05:00. Temperature is around -40C.
SOURCE : Arduin's Website
_____________________________________
THE OTHER FOLLOW UP OF THE SEASON