THE SERCO TRANSARCTIC EXPEDITION
Ben Saunders travelling solo and unsupported


SAUNDERS FOLOW UP MAIN PAGE (PAGE 1, from March 21st on)
GO TO PREVIOUS PAGE FOLLOW UP (PAGE 2, March 5th -> March 20th)
Terra Firma! - Saturday, 15th May 2004
For the first time in ten weeks, I'm on dry land. My runway was good enough, and Kenn Borek Air's Troy, Monica and Dave did a fantastic job in getting me back to Resolute Bay in northern Canada.
I'm in a hurry as I have to make a flight to Ottawa in a couple of hours. I'll write more soon...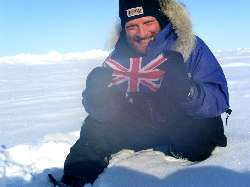 A quick update... - Friday, 14th May 2004
Oh the guilt! The shame! I often say that part of my motivation is to encourage other young people away from the tv and computer games and into the great outdoors. And how am I whiling away my last few hours (hopefully) in this incredible wilderness? Why, playing solitaire on my iPAQ, of course...
Actually, that's not all I'm doing - the pilots have asked that I keep a detailed weather log for them, with all sorts of important sounding headings - 'horizon distinction' and 'contrast resolution' are my favourites. It's a glorious day at the moment, which bodes well for a pick up. I've found the best bit of flat(ish) 'multi-year' ice I've seen in ages, I've marked out the four corners of a runway and I've flattened the lumpy bits with my snow shovel. It's just long enough, although if the pilots aren't happy with it, they'll land nearby and I'll have to leg it over. If all goes well, they should land at 1700-1800 UTC (Greenwich Mean Time in old money). So, as I write this, I have another 6-7 hours to wait. Hopefully my next update will be from terra firma - I haven't set foot on land for 71 days now! I'll keep you posted..

Taxi! - Thursday, 13th May 2004
Who needs reality tv when you've got this expedition to follow, eh? It's all happening up here - I've been speaking with Kenn Borek Air and they're very concerned about the ice and weather conditions (join the club!)
With bad weather possibly on its way, they will be flying to pick me up in the next 12 hours or so and the pressure's on for me to find a suitable landing spot asap - not easy when the ice is as bad as it is (see pic). So no sleep for Ben, sadly. It may also mean that my next update takes a little longer to come through... Keep your fingers crossed for me - I'm feeling more than a little nervous at the moment.
Heading south - Wednesday, 12th May 2004
Well, things aren't much different here on the other side of the world. I'm still heading in roughly the same direction, although north has become south and east has become west, if that makes sense...
I'm also living and navigating in Russian rather than Canadian time, as it means I don't have to alter my routine and that I can ski with the sun behind me, rather than walking into it (it's pretty bright up here). Of course, with 24-hour daylight, it can be whatever time I want it to be.
The weather is still glorious, but I saw an unnerving amount of open water this morning (see pic) - two enormous open leads. I'm happy to report that conditions improved throughout the day, although the ice on the whole is far from perfect. Another satisfying day in the mileage department and I'm still feeling strong, which makes it all the more frustrating that I'm not here a couple of weeks earlier. It definitely feels like I'm on the homeward stretch now - I suspected my motivation would plummet after reaching the Pole, but if anything, the reverse is true.
So what's next? I'm certainly not wandering along aimlessly - my next goal is to cover the 36 nautical miles we flew over at the start of the expedition (due to extensive areas of open water and dangerously thin ice). That takes me to 89'24. The next step is the 1,000km mark. A nice round number, which I'll pass at 89'13 (1,000km is a straight line distance and I'd guess I've covered 20-30 percent more due to the ice, open water and negative drift). After those two, we'll see how the ice looks...
Today's dedication is to Chris Hyman, Serco's CEO. I tried to call him yesterday to say thank you, but couldn't get through. The memory of him working like mad to pack my sledge during the resupply (while I was being interviewed) will live with me forever, and in so many ways sums up his involvement with, and enthusiasm for this expedition. Thank you Chris.
A HUGE thank you as well to everyone that has left messages on the site - I've only had a fraction of them passed on via the satphone and I'm grinning from ear to ear. A big hi to Dixie and to DB (I hope you're still wiggling those toes);
On top of the world! - Tuesday, 11th May 2004
Ninety degrees north. The axis of the earth's rotation. All the lines of longitude and all the time zones converge here. The North Geographic Pole.
I've had 68 days to rehearse a speech, yet when I turned on the video camera and counted down the last few feet on my GPS, I didn't know what to say.
I still don't. I felt a huge mixture of emotions today - overwhelming joy and happiness, relief, sadness, frustration that I'm here too late in the season to reach the Canadian coastline. I thought of Dominick Arduin, who died this spring trying to reach the same point. And I thought how strange it is that there's nothing here. It's a bit of ice, just like any other.
I knew that all along, of course, but it still seemed so odd that the only proof is a number on the GPS. I sat down on my sledge and within moments I had drifted away from it. It's a cliche, but it's true - the important bit is the journey, not the destination.
And what a journey it's been so far. I've had way more than I bargained for - the conditions have been worse than ever and I've had to dig deeper than I imagined possible just to keep going. My motivation and my goals have changed drastically - at the start, this was about competition. Making a statement. I've come to realise that the only competition was with myself, and that the only thing I'm 'conquering' is my own self-doubt. The Arctic changes every year - skiing to the North Pole isn't like running the 100 metres. It's not even like climbing Everest, or skiing to the South Pole, because it's getting tougher and tougher. Making a solo and unsupported ski crossing? I'm wary of using the word impossible, but I think it comes close. I hope someone proves me wrong.
My plan now is to head as far towards Canada as I can. I'm already camped on the 'Canadian side' and my world has been turned upside down - north, south, east and west have all swapped places.
Sorry to keep you all waiting for the dispatch - I've been on the phone!!
Today is dedicated to a company, not a person - Serco. 'Thank you' doesn't seem enough. Hopefully my skiing is doing the talking...
Stop Press!! - Sunday, 9th May 2004
Exciting news from the high Arctic! I've just had to delete my entire dispatch (moaning about the weather) and start again. Why? Because ten minutes ago, the sun came out! Typically, it only happens after I've skied for ten hours through whiteout conditions with a bitter wind and lots of snow - stick the tent up and everything improves. I can't tell you how excited I am. I'm not sure how I'll get to sleep with such a beautiful blue sky outside - I'm itching to get out and make the most of it. If it's a whiteout tomorrow morning I'm sure I'll have my biggest sense of humour failure to date...
It felt colder today, with many of the leads I came across starting to freeze over. The ice conditions are a vast improvement over previous degrees, although there are still patches of really bad pack ice, with piles of blue ice blocks the size of cars.
As well as the pack ice, there's plenty of open water around at the moment and I've had a few dicey lead crossings today. The one I won't forget in a hurry involved crossing a huge lead (over 100m wide) via a string of floating 'islands'. Everything started moving as I approached the far side and I really had to hurry, leaping across gaps and twice using the sledge as a bridge. It's at times like these I wish I had a video camera strapped to my head - when things get interesting it's usually far too dangerous to stop and get the camcorder out. I'm currently 22 nautical miles south of the Pole and should pass it on Tuesday (yes, I'll stop and take some photos!) - I'd planned to cover the last degree a little faster, but the whiteout has made speedy progress impossible.
Today is dedicated to Damien du Toit, who created this website. I'm sure I've mentioned him before, but he definitely deserves another shout :)
'For pleasure' - Saturday, 8th May 2004
As I was skiing along today, I thought back to late February when Bettina, Jean-Gabriel, Wave, Frederic and I were sat in a small hotel room in Khatanga, northern Siberia. We were talking about the motivation behind our individual expeditions (I always hate trying to answer the question 'why?') and I'll remember Frederic's answer for as long as I live: 'for pleasure'. It seemed preposterous, yet of course it's absolutely true. It's easy to forget when you're tired, hungry, homesick and fed up with another day slogging through a whiteout, but expedition life has a lot going for it.
I had a fantastic telephone conversation with Bettina and Jean-Gabriel last night (they reached the Pole a few days ago and are back home in Denmark now). Bettina said she was already missing 'the simple life' where all you have to worry about when you wake up is heading north. It was great to speak to people that had actually skied through the same ice and understood what I'm going through. I don't think words, photos or video could ever really convey how challenging things are this year.
They said that 89 was the easiest degree and sure enough, I had a few great pans (flat areas) this morning, although there's still a lot of open water around, and I spent ages stuck in one area that seemed to be a chain of floating, crumbling 'islands' of ice (see pic). Another day in the office...
Today's dedication is to Christian de Marliave. Merci, Criquet!
A big hi to Juliette Lloyd, Stuart McFarlane, Abigail Wright and Mark Harrop :)
And to think... - Wednesday, 5th May 2004
...I thought yesterday was a tough day. Today was ridiculous - right off the scale. An even, er, whiter whiteout, more snow, a change in wind direction (I'm now skiing into it), more leads, lots of negative (backwards) drift, giant pressure ridges, acres of rubble, and to top it all off (I hope you're sitting down, mum) I fell through the ice.
The photo is of where it happened - the lead was completely hidden by fresh snow. Somehow it was just my right leg that went through - a lucky escape as I seemed to be scrambling over sinking ice on all fours for ages. Very scary stuff, and it left me extremely shaken up. I'm a long way from help if I get into trouble and I felt rather small and lonely as I skied along afterwards, 'gazing into the abyss of self-pity' (one of my favourite John Ridgway-isms).
Aside from the whiteout and snow, the weather has been worryingly warm lately. In my diary I have the expedition log from the 2000 Norwegian Arctic crossing (the only ever unsupported crossing, by a two-man team - no one has made it solo without support). In April, their warmest day was -11 degrees C. Mine was -2. Today it's -5, whereas on 5th May 2000 it was -17 and the 6th was -20. Hmmm.
Anyway, it's not all doom and gloom. I had my telepathic mp3 player on today (I have three mp3 players, with 30 hours of music - the telepathic one is stuck in 'shuffle' mode but has a spooky knack of finding tunes to suit my mood) and it came up with a song by Anastacia called 'You'll never be alone'. Ordinarily, this would have me reaching for the sick bag, but today it worked wonders.
Today is dedicated to everyone at KTB PR, not least the fabulous Kate herself! Thanks for all your support.
A big hi also to everyone at Wishaw Academy Primary School - thanks for the messages!
Greyout - Tuesday, 4th May 2004
More of the same really. The ice has been terrible - loads of new pack ice and pressure ridges (not a lot of water, thankfully) and as you can see, I wasn't blessed with particularly good views for nine out of the ten hours I was on my feet. The sun obviously took pity on me and decided to pop out and say hello at the end of the day.
On the bright side, whiteouts are never without their comedy moments and today's came at my second rest stop, three hours into the day. My normal routine is to stick my ski poles into the snow, zip up my jacket, put my hood up, reverse a couple of paces and sit down on the sledge to eat/drink. As I took the weight off my feet, it rapidly became apparent that my sledge was parked at the top of a slope, and we both slid backwards at breackneck speed for a few seconds - I was laughing out loud as we finally crashed into a bank of snow. It's good to see my sledge hasn't lost his sense of humour after so much abuse...
Right now I can see the sun through the fabric of the tent, although it's still snowing hard. Hopefully it'll stay sunny tomorrow.
As I tried to daydream my way out of the day's oppressive gloom, I remembered a trip I took with my girlfriend to New York last summer (we were there for the blackout - the exact opposite of today, I suppose). Today is dedicated to everyone that made it so special - Brian, Susan, Robbie & Stevie Herring, Tom & Tina Sjogren, Jeremy Garfield-Davies, Mike Kobold, Andy Revkin of the New York Times and Jason & Ciry Deissl-Gibbs.
Into the mist... - Monday, 3rd May 2004 #
Today wasn't much fun at all and at times I came perilously close to a severe sense of humour failure. It snowed heavily during the night. 'Oh well', I thought, as I trudged through the fresh snow, 'at least the ice is pretty good'. Ten minutes later I came across the first lead (see pic). 'Oh well', I thought, as I skied east looking for a point to cross, 'at least the sun's shining'. Seconds later, a huge bank of cloud rolled in and it started snowing again - flakes so big that I'm sure I could have bagged them up and sold them as Christmas decorations.
I spent the next nine hours skiing through a whiteout. Stumbling is perhaps a better word - there is no shadow, no contrast and no perspective. The towering cathedral of ice you take a bearing on turns out to be a knee-high pile, the tiny ledge you're about to step off turns out to be a six foot vertical drop and the nice flat ice you're skiing towards turns out to be a wall of drifted snow. The fresh snow makes things interesting as well, by hiding things I'm quite interested in, like thin ice, or bear footprints. Ho hum.
It could have been a lot worse, though. I wound my way through some really smashed up areas of pack ice with dozens and dozens of frozen leads. A few degrees warmer and I dread to think what it might have been like...
Crash landing - Friday, 30th April 2004
There is a degree of contention in the polar world over which route to the Pole is toughest - from Canada or from Russia. Some argue that the Russian route (despite being 100 miles further) is 'easier' because the drift is 'mostly north' and the ice is flatter. This may have been the case ten years ago, but I don't believe it holds true any more.
And I'm sure the Arctic is trying to back me up here, because this morning I was presented with several prime specimens of the 'flippin' huge' variety of pressure ridge. Real whoppers. To give you an idea of scale, I plonked my ski (190 cm or 6'3") next to the one in the photo.
Anyway, pressure ridges are a fact of life which ever route you take to the Pole, and crossing them is rarely easy. About three hours into the day, I climbed a real monster, hauled my sledge up and left it teetering right on the top as I clambered down the far side. I'd employed this slightly risky technique before - get to the bottom, give the rope a tug and hey presto, the sledge comes down after you. This time, I got it wrong. Halfway down, I lost my footing and felt the rope go tight and then slack again. I felt like a bomb defusal expert that had just snipped the wrong wire... I heard a rumbling behind me and like a freight train, the sledge hurtled down the ridge, knocking me over like a rag doll. After realising I was still alive, I completely lost my temper and had to resort to some emergency Bob Marley tracks I have on an mp3 player...
You'll be glad to hear that after all this, the weather and the ice are both improving.
Today is dedicated to Liv Arnesen and Ann Bancroft, who are planning on making an Arctic crossing next spring. I can't wait to pass on a few of the things I'd do differently next time...
L'Enfer du Nord - Thursday, 29th April 2004
'L'Enfer du Nord' - 'the Hell of the North' is the nickname for perhaps the world's toughest one day bike race - the infamous Paris-Roubaix. Part of the reason I'm telling you this is that a British rider, Roger Hammond came third this year - the best result of his career (can you tell there was a cycling magazine on the resupply?!)
The other part is because I'm experiencing my own 'enfer du nord' at the moment. I've been skiing into a bitterly cold headwind for several days now, I've been drifting back between one and two miles daily for over a week, and today the ice took a turn for the worse. Just when I should be hitting the flat stuff and making a dash for the Pole, I find myself literally on my hands and knees, battling through horrendous pack ice - mostly old, smashed up areas covered in deep, soft snow. Things were so bad this morning that it took me almost all of the first two hours just to claw back last night's backward drift.
Anyway, I've cheered up now I'm back in the tent and deep down, I know that no matter how crazy the conditions are, part of me will miss this place when I'm back home...
My girlfriend's flying to Madrid today to see her parents, so I'm going to dedicate today to them - Pedro & Maria Teresa. Hasta el verano!
A huge hi to Jessie & Alfie, George Fudge, Scot, Gloria, Cissy, Ivo and everyone else following the site!
I nearly forgot - today is day 56. Eight weeks on the ice!
So, what's the plan? - Wednesday, 28th April 2004
As some of you know, 'Borneo', the temporary Russian airstrip near the Pole is closing soon. The last helicopter leaves the ice on the 5th of May. Does this mean I'll be stranded? Can I reach the Pole? Can I reach Canada?
No, yes and no. If/when I need picking up from the ice, it'll be via aeroplane from the Canadian side - we are chartering one of Kenn Borek's Twin Otters, which will fly out from Resolute Bay. I'm on track to reach the Pole in 10-12 day's time, and plan to carry on past the Pole towards Canada for as far as I can. A lot depends on the condition of the ice - not only for me but for the pilots, as they need a decent pan as a landing strip. At present, the end of May is the latest they are happy to fly.
Realistically, I'm now too late in the season to reach Canada on foot, thanks to a delayed start from Russia and some of the worst ice and weather conditions on record. If all had gone according to plan, I would have been at the Pole today, with the entire month of May to reach Canada. As they say, the first casualty of war is always the plan...
Today is dedicated to a few Norwegians (as I guess there are some reading this!) - Rune Gjeldnes & Torry Larsen for the inspiration, Borge Ousland for the inspiration, assistance & hospitality, Alex at Acapulka for the best sledge ever made, 'Captain' Camilla, Asnes skis, Swix ski poles, everyone at the Finse 1222 Hotel and the landlord (I've forgotten his name!) of the pub at Oslo station (he let me store my sledge there overnight!)
A big hi to everyone leaving messages on the website - as I've said before, I can't see them and rely on a few being passed on in my daily phone calls, but a few names are becoming familiar! Thank you all.
Well... - Sunday, 25th April 2004
...I'm still here! I didn't get much sleep last night - the helicopter landed at 0130 my time and stayed for nearly an hour. It definitely rated as one of the most surreal moments of my life and it filled me with a mixture of emotions. Wave Vidmar was on board (an American adventurer aiming to reach the Pole solo). I'd heard he had an eye infection but it wasn't until I saw him squinting out of his grotesquely swollen eyelids that I realised how serious it was. He gets my rookie of the year award - I think a year or two ago he'd have made it but the conditions really are bonkers this year.
Chris Hyman, Serco's CEO was on board and ended up packing my sledge while I was interviewed by a CBS News crew making a piece on climate change. All very strange!
I had stacks of presents, letters, photos and treats - I felt like a kid at Christmas and finally fell asleep at 5am after eating a huge bag of Jelly Babies (thanks Babs!)
The ice today actually seemed to be mostly water. I've never seen anything like it - leads everywhere. I'm amazed I didn't need to use the drysuit as I'd guess I crossed 20-30 open leads today. I had to retreat slightly to find somewhere safe to camp, but the weather's improved and (wait for it) I'm drifting north! Only just, but it's very welcome. Life is good.
Today is dedicated to everyone that made the resupply happen - particularly Tony, Chris, Marc and Christian.
A big hi to Sharky and to Jimmy Stokman (if I see Santa, I'll mention your name).

Visitors! - Saturday, 24th April 2004
Most of today was a nightmare. Tony (my expedition manager) and Chris (Serco's CEO) arrived at Borneo, the temporary Russian airstrip near the Pole yesterday. After kitting Chris out with the latest polar clothing, the temperature turned out to be a tropical minus two degrees c. Tony said that it felt colder in London. Such high temperatures can only mean trouble when you're trying to ski across the frozen surface of an ocean, and sure enough there was a huge amount of open water today.
The wind was blowing like mad when I woke up (completely boiling in my -40 sleeping bag) and it turned out to be the headwind from hell. I drifted back nearly four miles overnight and standing still today, the GPS was measuring my speed (backwards) as 0.5 knots. It snowed hard, the visibility was near zero and in the first three hours I had to swim across two leads (I fixed the drysuit, by the way!). The whole place seemed to be melting around me. I decided I'd had more than I could take - I was going to get straight on that helicopter and in two day's time I'd be in a hotel in Longyearbyen, having a hot bath and lying on the bed in a fluffy dressing gown watching MTV.
But the Arctic has a funny way of taking you right up to your breaking point and then easing off. Sure enough, as I set up camp this evening, the wind died down, the clouds parted (see pic) and the sun showed up for the first time today.
As the title suggests, I was going to write about my resupply, but it hasn't happened yet (the helicopter flew over a little while ago to pick up Wave Vidmar) so you'll have to wait until tomorrow to hear how it went...
Today is dedicated to Graham Ogle at Brenig (Graham custom made the clothing I'm wearing for this expedition - fantastic kit!)
The eye of the Tiger! - Thursday, 22nd April 2004
I think it was the great Eddy Mercx (5 times Tour de France winner) that said if you kept hitting a stone with a hammer, you ended up with particles of metal in the stone and particles of stone in the hammer, and that the same happened with him and his bike - it was part human and he was part bicycle. What am I on about? One of my mp3 players has gone slightly haywire and what used to be 'random shuffle' mode is showing worrying signs of telepathy - it seems to be able to read my moods and respond with appropriate tunes.
Just as today seemed to be turning into a repeat of yesterday (atrocious ice and weather conditions) it played Survivor's The Eye of the Tiger, a tune I didn't even know was on there.
I broke into a smile. I skied a touch faster. I even threw in a little shadow boxing now and then (although thanks to the whiteout, I had no shadow). As you can see from the photo, the ice is still really bad and I had to fight for the mileage again today, but I was way, way happier doing it.
Today's dedication is to Tete and Pablo, along with special happy birthday wishes to Stevie (sorry it's a couple of days late) - I hope you didn't hit the champagne too hard this time!!
From bad to worse - Wednesday, 21st April 2004
I think the Arctic wanted to show me who's really the boss today. It was certainly the worst day of the expedition and quite possibly the toughest of my entire life.
The large lead I camped near last night hadn't frozen (a bad sign) and worse still, I realised I was on a 'peninsula' of ice - the lead curved away to the south west and south east. I chose south east and skied nervously along the edge of the thin ice, looking for a point to cross. Eventually I found an area I thought I might be able to crawl over in the drysuit. Big mistake - the ice was 2-3 inches thick, but it was like rubber. I fell in straight away and had to smash my way through the ice with my arms. It was exhausting work and after 15 minutes I was barely a tenth of the way across. I retreated and skied further before finding a narrower point which looked good. I scrambled back into the suit, pulled the cord tight around my face and tugged at the zip. It fell apart in my hand.
The shock hit me like a slap in the face. The suit would still be watertight, but without the zip I wasn't sure if it would float properly (or at all). With tears of frustration freezing on my cheeks, I climbed out of the suit and skied on. In all, it took nearly four hours to cross that lead, and when I did, I ended up in the middle of the worst rubble ice I've seen for weeks.
There were two more big leads today and loads of smaller ones, all fresh. The weather deteriorated to a complete whiteout, leaving me stumbling along, bumping into ridges and falling over constantly. I skied for nearly ten hours and didn't even make five nautical miles north. Crazy.
Today's dedication is to everyone that was in 8 Platoon, Inkerman Coy, RMA Sandhurst at the same time as me. I wonder where you all are now...
Mind travel - Sunday, 18th April 2004
That's what Sir Ranulph Fiennes calls it. My teachers prefered the term daydreaming. Either way, I did a lot of it today.
I was up late last night with a mammoth salopette repair job and I woke up feeling exhausted. It was very cloudy all day, verging on whiteout at times and the ice (half flat pans and half rubble) was covered in deep snow. It was like skiing through treacle at times - I was forcing my way through what I should be gliding over. All very frustrating, although yesterday's headwind had veered round and was now blowing from the east. There was far less open water, although some of the ice this morning was really smashed up. As my good friend Nicolas Mingasson said, 'it's a crazy season'.
I was replaying a few years of my life this afternoon and remembered one person that was always happy to listen to my crazy plans for the future (over a cup of tea!) - so today is dedicated to Carole Parmiter (and of course to Eleanor, Chloe & Rosie).
And it certainly did some throwing today. Dozens and dozens of open leads. I only swam once, but I had some crazy crossings - I skied, I jumped, I crawled over the sledge, I used a giant floating block of ice as a ferry and I made a bridge by pushing huge lumps of snow and ice into the water. The crazier the conditions became, the wider my smile grew - it was like some ridiculous assault course, yet I kept managing to find a way through (or over, across or around).
Today dedication is to Borge Ousland for developing the drysuit, to Helly Hansen for making it, and to Adam Levy for kindly supplying the one that's getting me through all this.
The 'f' word... - Saturday, 17th April 2004
I think I've avoided using this word until now, and I can't believe I'm about to say it, but today was definitely fun.
It all started after about two hours, when I came to a lead that I had no choice but to swim across, wearing my drysuit. Until today, swimming leads has scared me silly - it goes against every notion of self-preservation. The adrenaline was flowing as I suited up and climbed into the black water, but half way across the lead, something very strange happened. I realised I was enjoying myself. I stopped swimming for a moment and lay floating on my back with the warm sun on my face. I felt completely relaxed and completely safe, and when I started swimming again, it was with long, smooth strokes rather than the panic-driven doggy paddle I normally use. When I climbed out of the far side, I was a different man - I could deal with anything the Arctic could throw at me.
Falling down - Friday, 16th April 2004
Not only the title of a great film, but something I was doing rather a lot of today. The ice was terrible (that wasn't the exact word I used in my daily phone call to Tony, but this is a family site after all) - tons of rubble, giant pressure ridges and a liberal sprinkling of fresh, deep snow. It was incredibly hard work, deeply depressing and my poor old sledge now answers to a different name (which again can't be repeated here)...
The biggest crash came in the early afternoon - I was attempting to negotiate a really nasty pressure ridge with my skis still on, a procedure which at the best of times requires a modicum of skill and luck. Today it seemed I had neither. Roughly halfway across, I knew I was in trouble. My skis and poles were balanced precariously on huge blocks of slippery blue ice and my sledge was jammed in a gap behind me. I couldn't move either of my hands or feet without losing my balance, so I was attempting to free the sledge with what can only be described as pelvic thrusts. Exactly what happened next is a mystery, but I ended up half lying, half dangling by my feet (still clipped into the bindings), both skis parallel but pointing in opposite directions, and the sledge resting on my legs, trapping me completely. I wasn't sure whether to laugh, cry or shout out the rudest swear word I could think of, so I did all three, before reaching up to unclip my skis, falling even further and pulling myself out of the hole I'd ended up in. Fun fun fun.
Today's dedication is to Shaun & Mel Williamson - hope to see you in the summer...
A special mention in dispatches (geddit?) to Babs, both Nikkis and Sarah H. (thanks for making me laugh out loud last night).
Ben falls into the water - Tuesday 13th April
In reaching 85ºN, Ben Saunders finally thought he would be free of the chaotic ice that has been constantly blocking his path since he set out: leads of open water, compression zones, ice that's too thin, etc. It was meant to be from this latitude, so he was told by all of the polar explorers he had met for years, that the surface becomes flatter and the channels of open water make way for wide open expanses of thick, solid ice. Now he is weary and extremely disappointed: "Instead of that," wrote Ben in his log for 12th April, "I have encountered the worst ice I have come across so far and today I had to find my way across one of the widest leads I have ever seen. It took me two hours... !!!"
Apart from that, day-to-day progress over the Arctic pack-ice has been livened up with an anecdote from the adventurer, who suddenly found himself in the water while he was making his way along the edge of a channel, looking for somewhere to cross on thick ice. Another hair-raising moment came on the day when (8th April), as he was passing - jumping even - from one ice floe to another, Ben almost found himself trapped on one of these floating islands as the water opened up around him for as far as the eye could see.
Conditions improve a little...- Monday 5th April 2004
Despite the same poor conditions for making progress, things are looking up a little along the way for Ben Saunders. For one thing, his sledge is getting lighter to the tune of approximately 1.5 kg with every passing day (food and fuel used each day), and for another, the surface of the ice is becoming flatter. Also the number of hours of sunshine is increasing gradually. In fact, the sun is no longer setting and bumps along the horizon between midnight and four in the morning. As a result, the explorer can ski for longer and cover more kilometres during the day.
Boot bodging - Wednesday, 24th March 2004
The good news? I've finally passed 83 degrees and the ice conditions are improving. The bad? Yesterday's elaborate boot repair didn't last long and I was back to square one last night. I spent an hour this morning repairing it again, this time with miles of tape - gaffer tape, medical strapping tape and spinnaker repair tape. By lunch time, much of it had unraveled, the boot was gaping open again and I hit an all time low. I skied for a while in tears - surely the expedition was over? I had hardly any tape left and the broken boot was hurting my foot.
But as always, now I've got the tent up, had some hot food and blown my nose, things don't look quite so bad. I started to hatch a plan and cannibalised the sling from my shotgun, cutting it apart and screwing it into the sole of the boot. The result looks far beefier than my gaffer tape effort and I'm optimistic about its performance. Fingers crossed...
Today's dedication: Rosie Stancer and Fiona Thornewill - Britain's pin-up polar babes. Today's hello: Thomas & Alexander Eckl, Baby Walrus and the St. Michael's School of Medicine Hat, Alberta, Canada.

Source : Ben's website
______________________________________
THE OTHER FOLLOW UP OF THE SEASON