THE SERCO TRANSARCTIC EXPEDITION
Ben Saunders travelling solo and unsupported


SAUNDERS FOLLOW UP PAGE (PAGE 2, March 4th -> March 20th)
GO TO MAIN FOLLOW UP PAGE (PAGE 1, from March 21st on))
Aarrrggghh!! - Monday, 22nd March 2004
This is getting ridiculous. I woke up this morning to find my tent flapping like crazy. The wind had turned during the night and had been busy blowing me backwards. It had also snowed heavily which sounds normal, but in reality it hardly ever snows here.
All the ingredients for a nightmare day - a strong headwind did its best to freeze parts of my face and meant I was being blown south almost as fast as I could ski north. The ice is still terrible and the snow makes things worse (see pic) - like skiing through glue. It also made judging the condition of the ice impossible.
The result of six hours hard slog? I'm a big fat 1.5 nautical miles further north than I was this time yesterday. It's like a bad dream.
Anyhow, enough moaning. Congratulations to Arlington Science Focus School for answering yesterday's questions first. Your photo will be on its way as soon as I next see a post box...
For Lauriston School: the average temp. on my expedition so far has been around -30 degrees C. I haven't had frostbite, luckily. Being solo is nicer than it sounds - the time goes quickly as I'm always busy - navigating, putting the tent up, cooking, writing updates, sleeping. My favourite parts are listening to music, reading text messages on my satellite phone and my evening meal. The idea initially came from reading about previous expeditions. For Robert - the training lasted a year although the total build up has taken three. It hasn't been easy, but yes I've enjoyed it - especially putting on weight!
Today is dedicated to anyone else that feels that no matter how hard they try, they're still drifting backwards. There's a great bit in Kipling's 'If' about making a 'heap of all your winnings', losing the lot and starting again without 'breathing a word about your loss'. On days like today, I try and remind myself that just being here is proof that dreams can come true, and that I'm certainly getting what I came for - a challenge.
Thank you for your messages of support and a big hi to Cissy, Christy, Debi, Gwen, Nikki and Scot.
Sun dog - Sunday, 21st March 2004
I saw a beautiful sun dog today - hopefully the photo shows it clearly enough. A parhelion is the technical term, although I'm not sure exactly what causes it.
So here's my idea - a little competition: the first school to reply with the correct answers to 1) what causes a parhelion and 2) what do polar bears drink (because I don't know that either!) wins a prize. I'm not sure what yet, but I'll work something out...
I said I'd explain time zones, so here goes. Each degree of longitude equals four minutes of time. I'm currently at 97 degrees east, so 97 x 4 = 388 minutes, or 6 hours 28 minutes LATER than UTC. If I were at 97 degrees west, it would be 6 hours 28 minutes earlier than UTC. Clear as mud? Thought so. Rather than doing the maths, I have a little chart in my diary. Easy peezy.
Today was a little better - still lots of rubble, but a few decent flat areas as well. It was warmer (-21) which means the sledge runs better over the ice, although it still gets a lot colder at night. For those of you concerned about my relatively slow progress - it's pretty normal at this stage and my mileages will improve massively as the weather, ice conditions and sledge weight all improve.
Dedication time. The idea of dedicating days was a spur of the moment thing and I'm not keeping track, so there may be some repetition (probably deservedly so) and some omission (probably me being a dimwit). If there's one person that deserves a repeat dedication, it's the incredible Babs Powell, who worked around the clock to help pack my expedition rations. Babs, you're a star and I think of you each time I break into a new bag of lovely grub. Also worthy of a repeat mention is my stepdad Giles, who's also a star - something I think I failed to convey when I last mentioned him (like I said, I'm a dimwit sometimes).
Last but not least, a big HAPPY MOTHERS DAY to my number one supporter! :)
Crawling north - Saturday, 20th March 2004
Once again, the Arctic made me fight for every inch of every mile north. I've never seen ice as bad as this - impenetrable rubble stretching as far as either horizon, topped off with plenty of fresh, sticky, drifted snow. A bombed out metropolis with a million tons of icing sugar dumped on top.
Every minute of today was back breaking work - the sledge kept falling down holes, my ski skins needed repairing twice, a near whiteout made it hard to navigate and when I took my skis off for the worst bits, I sank thigh-deep in snow.
Things don't seem so bad now I'm tucked up in bed with my mp3 player on and a belly full of chicken curry (see photo!) but it was definitely one of the toughest days yet. So much work and so little (a shade under four miles) to show for it.
A few people have asked about daylight and about the time zone I'm in. The daylight increases day by day - two weeks ago there was roughly six hours of true daylight. Now it's double that and pretty soon I'll have 24-hour sunlight. As far as time goes, I'm six hours and 28 mins ahead of UTC or Greenwich mean time. I'll explain why tomorrow...
Today's dedication goes to Legend Internet (and Mark Elders in particular) who host this site and have been sorting out my technological headaches for nearly three years. Thanks!
Also, a big hello to Mungo, Carzee, Derestrictor, Joust, Flasher, Mrs Fish, Petrol Ted et al. I'm sure I'll see some of you in the summer...
Rubble trouble - Friday, 19th March 2004
Incredibly, my dodgy repair to the battery charger is still working, although I suffered a nosebleed last night which I suspect resulted from inhaling all that solder (or perhaps it was just the excitement)...
Anyhow, a crazy day today - loads of rubble ice (I hope the photo is clear enough to show you what it's like). Hardly ideal skiing conditions, although the weather was superb, with bright sunlight creating a surreal, alien atmosphere. I half expected to see a dinosaur beyond the next pressure ridge. Or a space station.
On a practical note, apparently a few people have asked what I'm eating. Lots is the short answer. Just under 6,000 calories per day, which I'm sure would normally be enough to sustain a champion sumo wrestler. Up here, I'm still losing weight.
Breakfast is my own secret recipe high-calorie muesli (a bit too sweet, actually) washed down with a protein shake, a handful of vitamin pills and half a litre of energy drink.
I don't have lunch, but eat/drink every hour I'm on the move - hot energy drink and some custom made energy bars from Science in Sport (they even say 'Ben's bars' on the wrapper!)
In the evening, some Green & Black's chocolate as a bit of a treat and then the highlight of the day - one of my Norwegian freeze-dried evening meals (courtesy of Expeditionfoods.com). Cod and potato casserole is my current favourite, but I'm slightly worries the fishy aroma wafting from my tent will have the bears' mouths watering!!
My girlfriend stashed a chocolate Easter bunny im my sledge, which I'm embarrassed to admit I've scoffed already. Purely to save weight, you understand.
Today's dedication is to David Butler and all the trainers and clients at The Personal Training Centre.
A HUGE thank you as well to everyone leaving messenger on the site. Many of them are relayed back to me and it makes my day to hear about the interest and support this project is generating. Keep 'em coming!

Tent Moose - Wednesday, 17th March 2004
The Royal Marines have a great expression for someone that's unusually clumsy whwn living under canvas - a tent moose. Well, that was me yesterday. I managed to spill boiling water twice, and to knock a half empty flask of drink all over the tent floor. D'oh.
Aside from that, things are great. It's still very cold (minus forties) but the wind was coming from the south this morning and the sun was shining. The ice improved throughout the day - mega rubble to start with, some new pressure ridges (see photo), a handful of recently frozen leads, a couple of open leads (narrow enough to jump) and some flatish ice to finish off. Another tough day, but it was good to cover a decent distance.
Today is dedicated to Luke and Charlotte Cunliffe - thanks for all your support!
A big hi to Brian and Sylvia, to Brian, Susan, Robbie and Stevie, and once again to everyone at Dane's Hill School.

Whiteout - Thursday, 11th March 2004
No easy miles today. Things started out looking good, but within an hour the headwind had started (frozen face and drifting backwards) and the cloud had descended. I could hardly see a thing. Fun fun fun.
Swearing into my iced up face mask, I managed to grind out three nautical miles. It felt like more than that but today, as is often the case in the Arctic, I was going up the down escalator...
Today's dedication is to my polar mentors - Pen Hadow and Borge Ousland and to Tom & Tina at ExplorersWeb for developing the technology that means I can share this adventure with the world (or just bore you lot with my inane ramblings...)
Fingers crossed for clear skies and flat ice tomorrow. On on!

Oh what a night! - Wednesday, 10th March 2004
I'm writing this at the end of day two stuck in the tent. The bad weather seems to have blown over and I'm revving up for a good day on the ice tomorrow...
Last night was unreal - the kind of weather I'd expect in Antarctica rather than up here - howling, battering, tent pole-flexing winds and blown snow part-burying the tent. The good part is that the storm blew me TEN nautical miles north in 24 hours. It was hard to tell with the tent flapping around, but at times I'd swear I could feel the ice moving. I didn't sleep much, but thanks to my trusty Hilleberg tent, I'm still here. Amazing.
Many of your messages are being passed on to me via satphone - keep 'em coming! As far as the marriage proposals go - I'm very flattered, but I suspect that if you caught a whiff of my sleeping bag (I haven't washed or changed my underwear in over a week and don't intend doing so for at least another month) you might change your mind...
A BIG thank you to Kim Komando (and son!) for your support - it means a great deal. Also - a big HI to any Scouts reading this - I still have my old shirt, is there a polar badge I can get?!!
Carlos - great to hear from you - have fun in India!
To the person that asked if I'm reading a book - yes, 'Life of Pi' by Yann Martel. I also have 'Courage from Piglet' (extracts from Winnie the Pooh) for when I'm feeling less intellectual (thanks Caroline!)
Today is dedicated to my expedition manager Tony Haile, for all the hard work, sleepless nights and grammatical criticism he's put into this project. And what a dashing young blade he is too (in case there are any single girls reading this)...
Chicken curry for supper. Yum!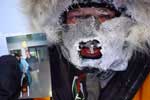 It's grim up north... - Tuesday, 9th March 2004
Telltale signs you've chosen the wrong holiday destination no. 12: you start using your freshly filled pee bottle as a hand warmer before tipping it away.
The weather in the high Arctic has taken several turns for the worse, and high winds combined with near-zero visibility have forced me to stay put for the day (in a tent that is trying to take off).
All is not lost, however, as the winds have really got the pack ice drifting fast - an incredible 0.8 knots is my current GPS-verified 'in the sleeping bag' speed record. I'd still rather be skiing, though. In the tent, everything that's warm is soaking wet, everything that's cold is frozen solid and each gust of wind showers me with ice from the inside of the fabric.
Today is dedicated to Sir Ranulph Fiennes, who is Mr. Polar to so many proud Brits. Ran's wife Ginny passed away the day that I left the UK and I never had the chance to offer my condolences. I first started hatching polar plans after reading his book 'Mind over matter' and was amazed when he took time to answer a question I sent him via his publishers with a two-page, handwritten letter. The world needs more people like Ran.
My thoughts today are also with Frederic Chamar-Boudet and Dominique Arduin, who both started expeditions at the same time as me, but from land rather than from the safer ice further north. After falling through thin ice, Fred has badly frostbitten hands and feet and is waiting for an evacuation flight. As far as I know, communications with Dominique have been lost. Sometimes the Arctic is the most beautiful place on earth. Others, it's the scariest. I hope more than anything that Fred and Dominique make it home safely.
To end on a cheerful note, apparently a few people have asked what music I listen to up here. A bit of everything is the answer - I have three 512mb mp3 players, with music recorded alphabetically. Yesterday I had A to E on random shuffle, giving bizarre combinations like Coldplay, Aha, DJ Hype, Bob Marley, ACDC and Busta Rhymes. Anything with a good beat that makes me smile, really...

Demolition man - Monday, 8th March 2004
I keep breaking things - my ski skins are coming loose, I've torn part of my left boot off, broken my sleeping bag zip and bent a tent peg. And I'm only on day bloomin' four...
A tough day today (can you spot a recurring theme here?) and a hard won 3.4 nautical miles in the bag. The ice was worse today - loads of rubble and a fast opening lead (crack in the ice) at the end of the day. It was too wide to jump and too difficult to ski around, so I decided to do something really bonkers. Swim.
I have a specially designed drysuit for this very occasion, but I'd only tried it in Putney swimming pool and in the Serpentine for a photo shoot. Both times, my feet could touch the bottom; here the ocean is two miles deep and black as ink. Gulp. I suited up and edged in, shaking with fear... IT WORKS!! I bobbed across like a rubber duck and clambered out grinning like a loon. Not many people have done that, I thought to myself.
Today is dedicated to the St. Rita school for the deaf in Cincinnati, to Kim Komando for the overwhelming support, to Gerry Horn for encouraging me to push my limits (on a bike rather than on skis!), to my brother Steven, and to Alain Hubert for giving me his ski boots.
It made my day hearing about the messages on the website - thanks! Keep 'em coming and I'll keep skiing, how's that for a deal?
Lastly, apologies for the photo (of my stove roaring away) - I took loads as I swam the lead, only to find I'd left the memory card out of the camera. D'oh!

Perspective - Sunday, 7th March 2004
A really tough, soul-searching day, for a number of reasons. The ice conditions are ok, with a mixture of recently frozen leads, 'rubble' ice and a few big pressure ridges. The weather's pretty good too, although it feels colder today. The physical strain is immense, but it's the mental part that's hardest to deal with - the self-doubt, the monotony, the loneliness and the fear of failure.
I silenced some of the demons today by listening to my mp3 player. The difference it makes is amazing, and up here, no one can see you playing air guitar with a ski pole...
Today is dedicated to my mum - her independence and determination have been a bigger source of inspiration than she'd ever imagine.
I realised today that as Tony is still traveling back to the UK, my daily distances won't have been added to the site yet. As I'm skiing over the sea, I use nautical miles to measure distance. I'm currently at N82'02.2 which means I've covered 13 miles since I was dropped off. It feels more like 300...

Wacky races - Saturday, 6th March 2004
I shared my drop off flight yesterday with Wave Vidmar, Bettina Aller from Denmark and her boyfriend Jean-Gabriel. Bettina and J-G set off first, with light sledges (they are being resupplied) and the four of us have been within view of each other ever since.
After stopping early yesterday, I passed Wave's camp site this morning and shouted 'morning!' as I trundled past. Very surreal. I guess it will take a couple of days for us to lose each other.
I spent most of today skiing over a MASSIVE area of very new, very thin ice. Great conditions for getting some speed up, but pretty scary on this scale - impossible to camp on and prone to breaking up. I stuck the tent up as soon as it ended.
Today is dedicated to Chris Hyman, the CEO of Serco. I think it was Henry Ford that described enthusiasm as 'the spark in the eye, the spring in the step, the grip of the hand'. You'll never see a bigger spark than Chris's.

Alone and shreezing - Friday, 5th March 2004
According to my mum (hi mum!) I used to pronounce freezing as 'shreezing' when I was a bit younger. Well, it's bruddy shreezing here in my tent right now!
Our fears were confirmed this morning, with over 50km of open water off the cape. Incredible. I was eventually dropped at 81'49 - not what I'd hoped for, but at least I'm on decent ice now.
With over 180kg in tow, I move at a snail's pace and I've already invented some new swear words... it's indescribably hard work. At the moment, the thought of just another week of this seems ridiculous...
Of course, none of this would be happening without my sponsor, Serco, but it took me three hard years to find them, so today is dedicated to my number one supporter - my girlfriend Valeria. I'm missing her like crazy already.
Let's go - Thursday, 4th March 2004
It's supposed to be getting warmer now, yet in Khatanga this morning it was a bone-chilling -47 degrees - a good omen.
The helicopter flight we thought would never happen er, happened and I'm biting my nails waiting for my final drop off flight tomorrow morning. I'm hoping against hope that there will be solid ice all the way to the coastline. We'll see... I'll let you know how it went this time tomorrow.
For now, I'm going to enjoy my last night with my girlfriend for three months. In a bunk bed. Great.
Source : Ben's website
______________________________________
THE OTHER FOLLOW UP OF THE SEASON